We can crank up the amplifiers and layer on the production, but the acoustic guitar -- natural and authentic -- just isn't going anywhere.  Coupled with the high and lonesome sound of a fiddle or the lilting melody of expertly played mandolin, it is the foundation of traditional country, folk and bluegrass music.
What's more, these sounds are highly combustible.  Like the proverbial powder keg, these musical forms are ready to take new shapes in the hands of creative and inspired musicians.
Start with your traditional acoustic music.  Add a smattering of electric instruments, perhaps some drums or percussion.  Borrow some elements from cajun, old-time, Delta blues or other traditional forms -- but don't forget rock-n-roll,  it could be straight up classic rock or maybe an edgier punk or indie sensibility.   Sometimes its just plain attitude -- in the tunes or the lyrics.
These are the elements that open the portal to the new acoustic music. More than ever before, bands are delving into this bag of tricks to stand apart, establish their mark and forge the path into exciting sonic realms.  Blending the gravity and deep human connection of acoustic music with more unpredictable elements, these bands overcome nostalgia and forge ahead with a reverential nod to traditions.  Evocative of the boundary-breaking ethos of the Newgrass heroes of the Telluride Bluegrass Festival, these are bands that will carry that spirit forward for the next 30 years.
What follows are 9 bands that live in this space and have been burning up my playlists as of late.  They are on the front lines of taking acoustic music to surprising new places.
1. Avett Brothers
A decade strong after dissolving their rock band, Scott and Seth Avett, are rising stars on the back of their unique approach to acoustic music.  Case in point: the opening tracks of their last two albums stand like two pillars of the Avetts' musical language.
"Talk On Indolence", from Four Thieves Gone, is an infectious, upbeat, dare-I-say raucous song that serves as a calling card for what this band brings to the acoustic table -- chuggging banjo, half-sung/half-shouted lyrics, and witty, rakish charm.  With just the right amount of inidie spirit, I like to think of the sound as something I call Carolina-by-way-of-Brooklyn.
Nowhere is this approach more evident that on the title track of their major label debut, I And Love And You.  The line "Brooklyn Brooklyn take me in / Are you aware the shape I'm in", evokes such poignant melancholy, and what follows wrenches the heart as it emboldens the spirit.
And the Avett brothers are more than just opening tracks: with eight LP and four EP recordings, you can jump in to the Avett Brothers catalog at just about any place and you'll have plenty to keep you busy.  Extensive touring, including opening slots for Dave Matthews Band and Widespread Panic, have helped refine their live sound and build a diverse and devoted following.  Catch them now at what should the most exciting time in their career -- the brink of stardom.
2. Yonder Mountain String Band
Rocky Mountain bluegrass has occupied a seperate and dynamic lineage than bluegrass that has flourished elsewhere in the country.  Hailing from the mountain town of Nederland in the foothills above Boulder, Yonder Mountain String Band represents the logical evolution of Colorado bluegrass and are the successors in the progression that leads from Hot Rize to Leftover Salmon to the present.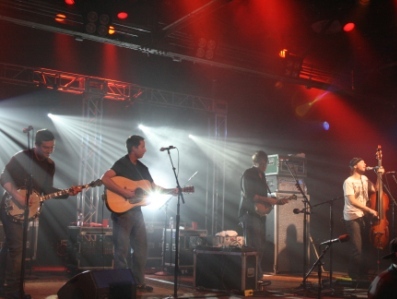 The band's first two albums, Town By Town and Elevation, laid the foundation for its marathon, jamgrass live show.  Providing  a bed of solid tunes that feel like they have been with you all your life upon the first listen.  Emulating a rock show more than a picking party or hootenanny, Yonder has been delighting its hardcore fan base, truly inventing a unique space that's little rock and little bluegrass, but can get blisteringly fast and certainly gets the crowds dancing.  They were the first band that I heard that brought the concept of extended jamming in a bluegrass idiom.
So where do they go from there?  Yonder's last two album's have brought bluegrass into the same spaces that a band like Wilco brings to rock music.  With the addition of drums -- including havng the kit manned by none other than Phish's Jon Fishman in select shows -- the band showcases a mature songwriting and tasteful, but innovative, use of the studio, that constantly reaches out for the "new".  Banjo player Dave Johnston explains "You shouldn't try to recreate the 1940s. I like to think of us as informed by the past and all the great performers before us.  But we also want to look forward rather than give people something that has already been perfected."
3. Donna The Buffalo
Twenty three years into a musical career, Donna The Buffalo's amped up acoustic music certainly has staying power.  With fiddle, acoustic guitar, and accordian each adding some flavor, the band can span the musical gamut.  Swampy New Orleans funk, countrified folk-rock, reggae and zydeco are all fair game.  Some may not get the reference, but I like to think of Donna The Buffalo as the NRBQ of  acoustic music -- quietly plugging away, doing yeoman's work to fill the world with music that is honest and sincere.
It figures that I recently saw the band play at one of NRBQ's frequent Chicago areas stomping grounds, Fitzgerald's in Berwyn.  There, the band navigated its way through each of the these styles, showcasing the multi-instrumental prowess of Tara Nevins and subtly charismatic presence of Jeb Puryear.  I was impressed at the devotion and attention of the Thursday night crowd.  And why not?  Donna The Buffalo gives them exactly what they want -- music that makes them feel good, about themselves, the world and their place in it -- it is music of-this-world, carrying itself with deceptive simplicity and humanity.  And it doesn't hurt that it is a downright good time.
[audio:http://tomorrowsverse.com/music/Acoustic/Funkyside.mp3]
4. Cornmeal
All the success in the world is due to Cornmeal for doing things the right way.  What does it take to get a bluegrass collective from Chicago to make an impact on the national stage?  Dedication to the craft, honing chops gig after gig after gig, and an innovative approach to a traditional musical idiom. Their reward? Leaving a trail of progressively bigger venues and a rabid fanbase dotted across the nation.  Through years of playing together, they have honed in on the key to using drums in bluegrass and the result is some big big jams.
Improvisation is at the heart of Cornmeal's appeal.  Their style of jamming stands a part even from the other bands on this list -- evocative of the frenetic bluegrass / rock hybrid of YMSB, but transcending into a sound all its own.  Extending tunes in a manner which engages the listener, using musical patterns, thrilling improvisational runs and -- like the best jambands -- its not a matter of simply stretching it out, but creating on-the-fly.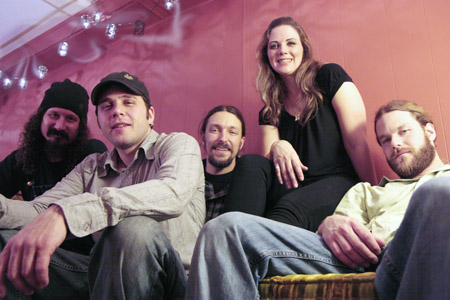 5. Old Crow Medicine Show
Old Crow Medicine Show just has a knack for making the old seem new again.  I suppose one might call them revivalists, given that their repertoire includes early twentieth century old-time, folk blues, country and bluegrass tunes and plenty of originals in that style.  A peek beneath the surface reveals something more, and it cuts to the heart of what makes stringband music so endearing for literate, passionate and conscious music fans.
Most OCMS tunes pack enough soulfulness, social commentary or allegory to make you think and feel as you're tapping your toes to the driving rhythms and raw vocal harmonies.  If you're looking for acoustic music with a little attitude, lyrics that cut deep upon reflection, give one of their records a spin.
Of particular note, the tune "Wagon Wheel", from their debut album, has an interesting pedigree.  Based on a Pat Garrett and Billy The Kid-era Bob Dylan tune that was salvaged from barely listenable bootlegs, OCMS maintains the themes and melodies of the original but completes the musical ideas in a satisfying way.  For a band in the reinvention business, this is par for the course.  The list of songs co-written with Bob Dylan is a short one, but one listen to this infectious and rollicking bit of folk will make you realize why the honor was deserved.
6. Hot Buttered Rum
Hot Buttered Rum made the leap from pure string band to an acoustic rock act with the addition of a drummer.  And what a drummer they have selected!  Matt Butler supplements his "other job" of conducting the revolving stable of jamband superstars known as Everyone Orchestra, with a stint behind the kit of the HBRSB.  Butler's presence alongside founding members Aaron Redner, Bryan Horne,  Erik Yates, and Nat Keefe, completes the circuit from a bluegrass band to rockgrass, something akin to a progressive take on bluegrass which strikes a balance between Bill Monroe and a modern pop aesthetic
Hailing from the Bay Area, they are everything that you'd expect from a band gigging around the heart of Garcia country for a decade... fostering both a laid back and listenable left coast vibe and inspired pranksterish lunacy.  A couple of their shows on the archive even feature some mini-sets of Grateful Dead tunes and other choice covers.
[audio:http://tomorrowsverse.com/music/Acoustic/Sugaree.mp3]
7. Railroad Earth
The first thing that grabbed me about Railroad Earth was that voice.  Singer/songwriter/guitarist Todd Sheaffer's plaintive, high country wail is strong, elastic and definitive -- he sounds like nobody else.  The second thing that grabbed me was just about everything else.  RRE brings the varied sounds and colors of a wide instrumental palette to the table, including expert fiddle and mandolin playing by two of the best in the business (Tim Carbone and John Skehan).  Propelled by Carey Harmon's rock oriented drums, upright bass supplied by Andrew Altman, and the multi-instrumental prowess of Andy Gosselin (guitars, banjo, dobro, fllute, saxophone... among others), this band is just dripping with talent.
And what wonderful sounding records!  Crisp and out-front, RRE's version Americana just pops out of your stereo; a nice setting for the hybrid of rock and folk and jazz that was inevitable when so many standout player are in one band.  In its live setting, it can even get downright psychedelic.  Its no surprise that Tim Carbone has brought that sound to a producing career, helming the boards for the Ragbirds, Greensky Bluegrass, Boris Garcia, Moonalice, Great American Taxi among others.
If you can't immediately fall in love with the tune "Hard Livin'" from Amen Corner, I weep for you.
[audio:http://tomorrowsverse.com/music/Acoustic/HardLivin.mp3]
8.  Dawes
Maybe acoustic is not the first thing that leaps to mind when you hear the music of Dawes, but these guys have had me wrapped around their fingers since the release of North Hills in August, and I had to include them on the list. Sure, there is acoustic guitar, but there are also hints of the fine acoustic albums of Neil Young an his sometimes bandmates of CSN, and that type of songwriting is worth an awful lot.
"Authentically vintage" is how Rolling Stone describes the sound, recorded to analog tape, on North Hills.  Call it what you like, but Taylor Goldsmith has a way of turning a phrase, melodic, sincere, and heartfelft, that makes the lyrics come to life.  Next time you think that they don't make 'em like Warren Zevon or The Band anymore, have a listen to the simple, yet emotionally rich melodies that Dawes offers, and rest assured that the future of this style of music is in good hands.
I need a graceful, proud way to let go
To smile and accept the things that you don't know
The losses and the gains blurred
The weight of these as last words  - Dawes, "Love Is All I Am"
Hell, I can barely even read those lyrics without welling up.  Have a listen and you just might have to grab a kleenex box.
[audio:http://tomorrowsverse.com/music/Acoustic/Dawes.mp3]
9. Greensky Bluegrass