Win Tickets! Joe Russo's Almost Dead 9/19-20 @ Concord Music Hall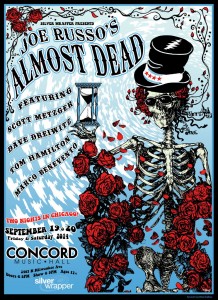 This weekend, we come as close as can be to a pair of "must see" shows on The Barn's calendar:
Top notch musicians, who we love as solo acts, as well as supporting players in other bands, coming together as a supergroup
This band's first shows out of the Northeast
All Grateful Dead material (yes, please and thank you)
There are two big "An Evening With" style shows!
Yes, this is a transitional period for Joe Russo's Almost Dead, and that's quite fitting for a band who is approaches their musical transitions with such aplomb.
I'm so excited to be able to provide some lucky readers with a pair of tickets to see this band as they start to expand their reach, from a few one-off shows in New York to an ensemble ready to storm the country.
We've got tickets for both Friday, September 19th and Saturday 20th.  All you need to do is put in a request for them.  And not just any request, make sure your request includes at least one tasty transition, marked with a ">" (e.g. Uncle John's Band > Lazy Lightning, or Reuben & Cherise > Eyes Of The World).  Mail your name, date(s) you'd like to attend and song/transition request to info @ tomorrowsverse.com, or your feeling social, leave us a comment on this page, tweet us or leave us a message on facebook.  Be sure to FOLLOW The Barn's twitter account or LIKE us on facebook, to have your entry count for double or triple .
We'll notify the winner on the afternoon of the show.
For now, check out some of the transitions JRAD pulled off at their last public performance at Gathering of the Vibes in August.
And a near 30 minute "Terrapin Suite" from December.