Watch The Wood Brothers Perform New Songs At Radio Session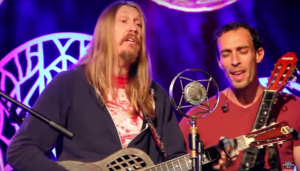 The Wood Brothers performed a pair of new songs for radio station Radio Woodstock just days after the release of their newest album, Paradise.
Opening with "Never And Always," the trio boasts a soulful, R&B-inflicted flare, blending genres to nail the sound they've perfected over the last decade.
After a short interview, the group also plays "Singin' To Strangers," another new tune that sticks to the folk-rock genre, sounding like the classic Wood Brothers recordings of the past.
If nothing else, the performance ought to give listeners a good preview of what's to come at their upcoming show at The Vic this Saturday, November 7.
Watch the video below, and read our interview with Oliver Wood from their last tour here.