Watch Paul McCartney Play Live Debut Of "Temporary Secretary" and "I Saw Her Standing There" With Dave Grohl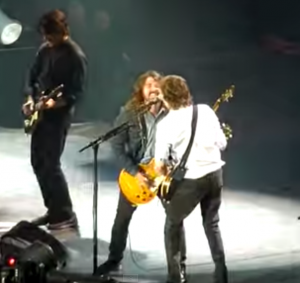 It should come as no surprise that Paul McCartney's London shows would be particularly eventful sets, but the singer's first of two shows at London's The O2 proved to be packed with unforeseeable surprises.
First, McCartney opened with a live debut of "Temporary Secretary," the goofy electronic single from McCartney II that has since taken on a cult-like status amongst fans. McCartney appeared especially excited about the performance, with the unmistakable synthesizer run playing beneath bouncy guitars and bass.
During the first encore, McCartney brought out Dave Grohl on guitar for "I Saw Her Standing There," the Foo Fighters' singer especially animated throughout, obviously thrilled to be on stage with the former Beatle.
Watch videos of both performances below.
"Temporary Secretary:"
"I Saw Her Standing There:"