Watch Jimmy Page Perform "Rock and Roll" In Massive Supergroup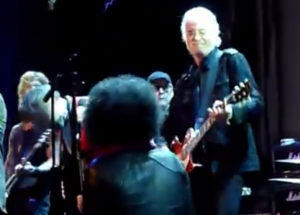 Jimmy Page made a rare public musical appearance on Thursday playing guitar at Seattle's Experience Music Project Museum during an award ceremony for the Zeppelin guitarist.
Though his management had insisted that Page would absolutely not perform during the event, the guitarist closed out the night's festivities by playing "Rock and Roll" with a massive lineup of all-star celebrities who had performed throughout the night.
Amongst the night's performers were Krist Novoselic (Nirvana), Rick Nielsen (Cheap Trick), Rich Robinson (The Black Crowes), Duff McKagan (Guns N' Roses), Barrett Martin (Mad Season), Kim Thayil (Soundgarden), Jerry Cantrell (Alice In Chains), Paul Rodgers (Bad Company), and more.
After a long set featuring the guest musicians covering Led Zeppelin classics, Page appeared on stage with a shiny Les Paul guitar for a somewhat sloppy but fun and heartfelt performance of "Rock and Roll."
The performance featured vocals by Paul Rodgers, William Duvall and John Hogg as well as eight separate guitarists. Page's solos are unfortunately largely drowned out by the mass of noise behind him, yet the performance clearly finds the guitarist enjoying himself.
Watch the video and read the evening's full setlist below.
Setlist:
[Rich Robinson and John Hogg]
Ten Years Gone
Custard Pie
Sick Again
Dazed and Confused
[Jerry Cantrell and William Duvall]
When The Levee Breaks
Living Loving Maid
No Quarter
How Many More Times
[Kim Thayil and Duvall]
Immigrant Song
Communication Breakdown
Four Sticks
[Thayil, Hogg and Krist Novoselic]
Out On The Tiles
[Hogg and Rick Nielsen]
Happening Ten Years Time Ago
[Paul Rodgers and Brian Wheat]
Satisfaction Guaranteed
Radioactive
[All of the above, Jimmy Page and Paul Allen]
Rock and Roll