Watch Andrew Bird And Fiona Apple Perform On Ellen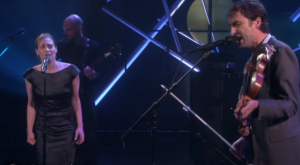 Andrew Bird recently performed on Ellen in support of his upcoming record Are You Serious. Fiona Apple joined the Chicago violinist for a stunning rendition of "Left Handed Kisses."
The duet, which also features Apple on the studio cut, is an insanely clever track, written about Bird's inability to write a simple love song. The song was performed recently at Andrew Bird's Fourth Presbyterian Church performances.
Bird and Apple's chemistry throughout the performance is incredible, the musicians often locking eyes throughout. Apple's voice is outstanding as always, adding a powerful sincerity to the lyrics, while Bird's violin work is simply gorgeous.
Also worth noting is that Bird is backed by a three-piece band, hinting that the folk-oriented Hands Of Glory will not see a return for upcoming tour dates, likely a necessary move to match the album's stripped down, pop-leaning direction.
Watch the performance below in anticipation for Are You Serious, which is out April 1.