Visual Setlist, Show Poster & Crazy Story: Umphrey's McGee @ Lincoln Hall, Chicago, IL 10/19/11
For a write-up on how to read and interpret visual setlists, click on over here.


2011-10-19
Lincoln Hall Chicago, IL
One: Great American > I Heard It Through The Grapevine, The Pequod, Professor Wormbog, The Linear -> Blue Echo > The Fussy Dutchman, Day Nurse, All Things Ninja
Encore: 2nd Self, Booth Love, Domino Theory, Reelin' In The Years
Power out for first set (all instrumental) -- show was run from generator from kitchen.  First 3 songs, Jake, Brendan and Andy only. Power back for encore.

The incredible story of the how this show went on in the event of a block long blackout.
[box type="info"]

| | | |
| --- | --- | --- |
| Song | Gap | LTP |
| Great American | 7 | 9/16/2011 |
| I Heard It Through The Grapevine | 52 | 4/2/2011 |
| The Pequod | 78 | 2/2/2011 |
| Professor Wormbog | 12 | 9/10/2011 |
| The Linear | 5 | 9/21/2011 |
| Blue Echo | 8 | 9/15/2011 |
| The Fussy Dutchman | 7 | 9/16/2011 |
| Day Nurse | 3 | 9/23/2011 |
| All Things Ninja | 84 | 1/23/2011 |
| 2nd Self | 6 | 9/17/2011 |
| Booth Love | 5 | 9/21/2011 |
| Domino Theory | 3 | 9/23/2011 |
| Reelin' In The Years | 21 | 9/2/2011 |
[/box]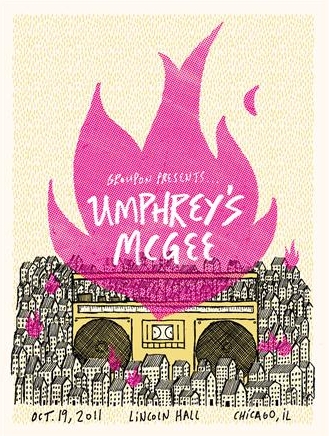 >View Umphrey's McGee Rotation<
>View All Fall Tour Visual Setlists<