The Who Played United Center, Are Subject Of Photo Retrospective @ Chess Records Recording Studio Through June 1st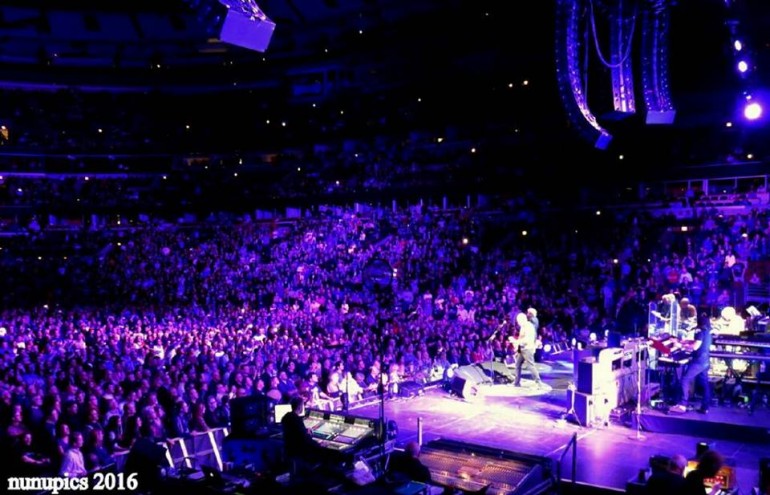 When The Who comes to Chicago, they really seem to make an impact.
Their 2016 visit started on Wednesday night, when guitarist Simon Townshend, who performs with the group, played a solo show at the intimate Lincoln Hall.
Thursday night, saw the band setting up at the mammoth United Center, where they played a career spanning set.  Photographer John 'Nunu' Zomot captured some great shots of the group which we are happy to share here.
March 10, 2016 - Set List:

Who Are You, The Seeker, The Kids are Alright, I Can See for Miles, My Generation , The Real Me, Pictures of Lilly , Behind Blue Eyes, The Bargain, Join Together, You Better You Bet. I'm One, The Rock, Love Reign O'er Me, Eminence Front, Underture, Amazing Journey, Sparks, Pinball Wizard, See Me Feel Me, Listening to You, Baba O'Reilly, Won't Get Fooled Again
This weekend, their legacy continues to be celebrated at 2120 South Michigan Ave, a National Historic Site and former location of Chess Records, the home of Chicago Blues.
On Saturday, March 13th, from noon to three, twelve local concert photographers be on hand to exhibit over 70 framed images in a historical retrospective spanning back to the 1969 tour of Tommy at Kinetic Playground, the band's performances at the old Chicago Stadium and more.  The photos accompany other Who related artwork, artifacts, videos and stories.
The show is entitled Bloody Young and Backdated: A Who Photo Retrospective and is being produced by frequent contributor Philomojaro Studio with support from the Willie Dixon Blues Heaven Foundation.
The exhibit will be available for continued viewing through June 1st.  There is a suggested $10 donation and a separate donation requested for guided tours of the facility.
Contributing photographers included in the show are: Terry Abrahamson, Perry Bax, Jeff Elbel, Yale Factor, Peter Katsis, Stacey Katsis, Kent Kriegshauser, Phillip Solomonson, Kesh Sorensen, and Joe Svec.
Here's Roger on the influence of Chicago Blues: