The Sporting Life of Grateful Dead 50 Weekend
We'll be saying Fare Thee Well to the Grateful Dead in Chicago this coming July 4th weekend, and as our continuing coverage proves, there's no shortage of places to party.
This being Chicago, there's no shortage of places to eat and drink to accompany your merriment.
But what if -- gasp -- you wanted to actually be active during a summer holiday weekend?  Well, we've got you covered there, too -- including a couple of activities that actually combine the party life with the sporting life.  Check it out...

1.  A tradition that usually pops up in Chicago during August, the folks at RAM Racing have bumped the Terrapin 5K up to Thursday, July 2nd and are indicating this one may be the last time for this annual event.
The race kicks off in Arvey Field of Grant Park, close to Solider Field and downtown hotels, and will bring together the world of Grateful Dead and competitive running, offering spectacular views along the popular lakefront trail.
Participants' goodie bags include a tie-dye style tech tee, and runners and spectators alike are all invited to enjoy the outdoor after party featuring music Chicago favorites Old Shoe.  Lou Malnati's Pizza and Magic Hat beer are available for purchase (though first beer is on the house for participants).  The race's charity partner is none other than the Rex Foundation (the Grateful Dead's charitable arm).
Give it a go and you could even find yourself in the big show the next day...
Registrants will have a chance to win a pair of 200-level club Grateful Dead tickets to the July 3rd show. Runners will be given a code when they sign up to encourage friends to race. Participants will receive an additional entry into the giveaway for each runner that registers using their code. The winner will be announced by the band during the post-race party, and must be present to win.
The race starts at 6:30, so you can hit this up and still head out to one of the many pre-party events springing up all over the city afterwards.  Packet pick-up at locations across the city and suburbs: Running Away Multisport in Deerfield, Fleet Feet's Old Town & Elmhurst locations, and on-site race day. For dates and times, please visit their website.
2.  Can't make the race or just want to explore on your own?  The 18 mile Lakefront Trail is open to all for walking, running, biking and routes right past Soldier Field as well as most Chicago beaches, three skate parts, Navy Pier and Belmont Harbor.
It's free and a must do for visitors.
3. If you're looking to explore the neighborhoods, there's plenty of walking and running routes available to you.  Perhaps scout a couple of the late night show locations during the daylight hours.
This may be a new one, even for Chicagoans.  The 606 is a new elevated trail which has been two years in the making just opened last weekend.
The 606 takes Chicago's legacy of great parks to new heights. The 606 has the elevated Bloomingdale Trail as its centerpiece, connected to six neighborhood parks at ground level, a wheel-friendly event plaza, an observatory, art installations, educational programming, and other amenities. Set above city streets, it's a new way to explore Chicago on trails for biking, running and strolling. The 606 also connects parks, people, and communities; what once physically separated four neighborhoods now will knit them together and attract visitors from throughout Chicago and beyond.
For more information check out their website.
4.  The amazing Millennium Park will host a couple of Afrobeat concerts bookending the weekend, but you can also drop by for a free morning exercise class on Saturday.
Classes are 45 minutes long.
7am - Tai Chi
8am - Yoga
9am - Pilates
10am - Zumba®
5. Surrender To The Flow Yoga, a studio which specializes in combining the music of Phish with their instruction is promising.  Details have yet to emerge, but they have announced their intention to host classes over the weekend.  A $20 donation (with proceeds benefiting Mockingbird Foundation) is requested for a class on July 4th from 2-3:30.  Check their website for registration details as they emerge.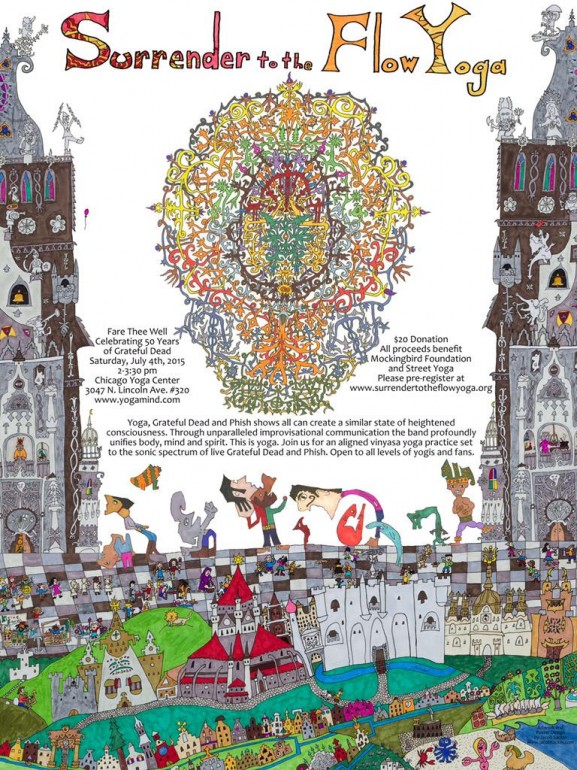 Meanwhile, an outdoor Yoga and Music gathering is scheduled for Grant Park on July 4th.  Check out the Grateful Dead Family 4th of July Spirit Gathering Group on Facebook for more details.
6. I saw this one pop up in my twitter feed courtesy of @zachm.  It's a bike tour of places that the Dead have played in Chicago, a nice 1 hour ride spanning 13.8 miles of the city ending (where else?) at Soldier Field.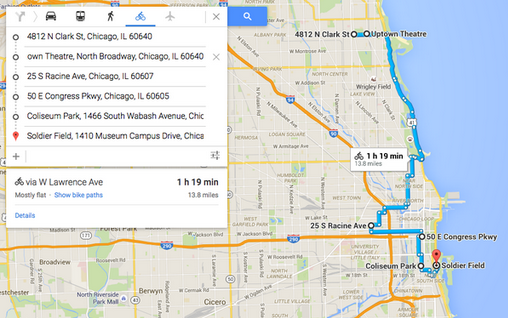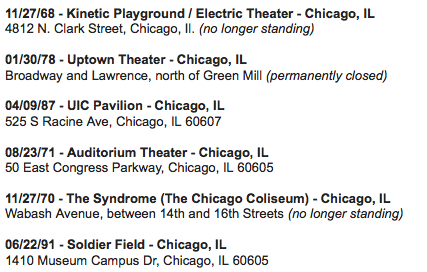 Regrettably, a couple of the venues are no longer standing, but you can still drink in the history.  If you're from out of town and forgot your bike, no worries.  Chicago is one of the growing number of cities with a public bike sharing program: Divvy.  I wouldn't however, recommend extending your tour to the Rosemont Horizon (since renamed Allstate Arena), where the dead played numerous times in the 80s & 90s.
7. Oh my.  If there wasn't enough going on over the weekend, both baseball teams are in town.
Oddly, the only confirmed day game at Wrigley is vs. the Marlins on 7/3, and Deadheads are already planning to make a go of it.  A group of fans is suggesting to TieDye The Bleachers for the Cubs game.  The organizer wants to get everybody in the same section, and is evening offering a group buy.  Whether you hook up with that crew or go at it with friends, Wrigley Field is a unique and totally worthwhile experience for any baseball fan (and the Cubs are looking good this year).  Night games (likely) on Saturday and Sunday, so hit one up if you don't have a GD50 ticket and then hit an after show.
As for the South Side team.  Well... there's baseball there, too.