The Gospel According To Melvin: A Barn Presents Mix Tape
While The Barn's recent interview with Melvin Seals intended to shed some light on the Jerry Garcia Band catalog, Melvin made it clear that the Jerry tunes weren't the only thing he's been up to lately.
I took this as an open door to explore some of the other projects Melvin has been involved with, and showcase some of the breadth and depth of his work across bands, genres and many superlative collaborators.
What follows is The Barn's Mix Tape, The Gospel According To Melvin, which offers seven cuts (and one bonus video)  that span of several side projects, guest appearances and sit-ins.   Strap yourself in, these jams are long!
The Stream (Click To Activate)

Download entire mix (.zip mp3)
Here's what you're listening to:
If you live in Denver, you may have been lucky enough to catch the occasional supergroup known as IMAGINE; a musical adventure which combines Melvin's classic organ with the vocal and guitar talents of Ray White (Frank Zappa) and the outstanding rhythm section of The Motet (Dave Watts - drums, Garrett Sayers - bass).  The setlists really run the gamut, but who is going to complain about this combo's take on Frank's "City Of Tiny Lights"?
After years of touring behind various configurations of The Steve Kimock Band, Kimock switched things up a bit in 2009 with Crazy Engine - a lineup which features Melvin and, with him, a bit of a looser, more fun sound than much of the heady rock-jazz of SKB. This mix contains the complex, yet moving and ultimately joyous, Kimock composition "Tangled Hangers."  It's one of my favorite Steve tunes and Melvin nails it.
It seemed almost inevitable when Melvin hooked up with DSO's John Kadlecik (currently of Furthur) to form The Mix.  After years of Melvin touring with JGB with others taking the Jerry slot, and John K doing the equal and opposite with the Dark Star Orchestra, these two joined forces with Greg Anton, Jeff Pevar, and Kevin Rosen to create and record original music that plays to the strengths of all these artists.  "The Business" from their 2004 release American Spring is featured here.
Darren Pujalet of Particle formed PUJA as a way to bring his vision of spiritual enlightenment through music to the stage. He recruited Melvin to do some gigging with the band and this is as close as you'll hear Melvin cone to the live band electronic style. The name of this tune is "Windjammer".
Melvin Seals Melting Pot was a way for Melvin to get out and play when the JGB wasn't on the road. It also provided a way to step away from the JGB catalog and stretch out on funk like "Moovin' Groovin'".  He promises more original tunes on a forthcoming album.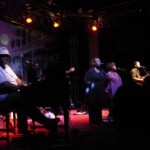 String Cheese Incident played the role of gracious hosts for a couple of tunes with Melvin on their summer tour in 2000.  Miles Davis' "All Blues" was a part of their repertoire at the time, and Melvin adds a layer of deep funk and jazz sensibilities to their arrangement.
We finish with Kimock again, but in this incarnation New Orleans funk-meister George Porter Jr is the secret ingredient in an outfit (Kimock, Seals, Porter, Kimock) which also features Steve's son John Morgan behind the kit. George takes charge here in a jammed out "Fiyo On The Bayou", with a low end rumble that holds steady for 20+ minutes!
Finally, our bonus video is another cut from Imagine in Denver, but this one features Chicago area fixture Jaik Willis fronting the band on Eddie Boyd's "Five Long Years" .  Check out the 6:00 minute mark for the goods from Melvin.
The Barn Presents Melvin Seals, Terrapin Flyer and Friends at Brixie's in Brookfield, IL - Friday, June 17th, 2011.