The Funk Stella Blue: The Motet's Grateful Halloween Weekend (Stream, Download, Video)
What happens when you take 12 musicians, with only 2 Deadheads in the bunch, and challenge them to funkify select cuts from the catalog of the Grateful Dead?  That was the question, when Dave Watts and Colorado's Motet set out to prepare for their 4 night 2011 Halloween run through the Front Range.
If rehearsal time is proportional to the size of the band, difficulty of arrangements and amount of unfamiliar material, this seriously has to be off the charts effort.  The music is deep pocket funk and groove, the kind that would cause instantaneous bodily movement even if these weren't songs from the most beloved songbook I know.  I've heard 100s of interpretations of the Grateful Dead canon, I can honestly say I've never heard anything quite like this.  The recording of the whole show is magnificent, but first I give you THE FUNK STELLA BLUE.
Wow, nothing like a R&B style slow jam on one of most moving Jerry ballads there is.  Some may cry blasphemy.  I say this proves the resilience and greatness of the material
Stream the entire show here:
[box type="download"]Download Entire Show (.zip mp3)[/box]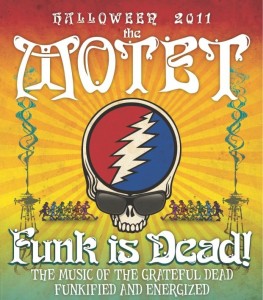 The Motet are...
Paul Creighton (Vocals)
Kimberly Dawson (Vocals)
Jans Ingber (Vocals)
Ryan Jalbert (Guitar)
Gabe Mervine (Trumpet)
Scott Messersmith (Percussion)
Matt Pitts (Tenor)
Joey Porter (Keys)
Dan Schwindt (Guitar)
Garrett Sayers (Bass)
Pete Wall (Baritone, Flute)
Dave Watts (Drums)
Setlist
Set One
Feel Like a Stranger, New Speedway Boogie, Playing in the Band, Terrapin Station (suite), Shakedown Street, Saint Stephen
**setbreak DJ set**
Set Two
Scarlet Begonias (w/Dark Star teases), Estimated Prophet, The Music Never Stopped, Stella Blue, Help on the Way > Slipknot! > Franklin's Tower, Fire on the Mountain > Lovelight
Encore
They Love Each Other, And We Bid You Goodnight (a capella), Loose Lucy
A peek behind the scenes at rehearsal
The James Brown style workout of "They Love Each Other" from 10/31/11