The Best Jazz Venues In Chicago
Chicago is a world class jazz city.  That means it has world class jazz venues.  But that doesn't mean they're all created equal.  Some are 100% dedicated to the form.  Others program jazz as a part of a more diverse lineup.  Just as there are many permutations of the music, there are plenty of ways to enjoy jazz here.  Here's our list of the best places to catch a jazz set in the city.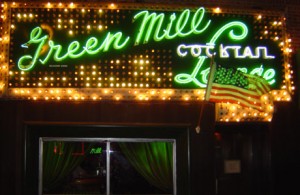 Best Late Night - The Green Mill:  Open til 4 a.m., the ghosts of Prohibition Era, which the interior of this Uptown club evokes, are particularly present in the wee hours.  Still, you'll find plenty of oustanding music at all hours (local legends Fareed Haque and Howard Levy are frequent performers) with both local and national acts switching up sets throughout any given night.  Quirky, unexpected and fun (you practically have to get up on stage to go to the bathroom), no Chicago jazz education is complete with out it.
Best Atmosphere - City Winery:  In bringing the lauded CW brand to Chicago, the team stopped at nothing to create a distinctive environment that sets itself apart.  Sitting amongst the dramatic wine-mamking apparatus, with high ceilings, classy furnishings and bold design statements, it just feels like a place where IMPORTANT music is made.  But the stage is so intimate and integrated with the room, you feel every bit a part of what is happening.  There's plenty more than jazz at City Winery, but for the type of jazz that benefits from an sense of awe and contemplation, it's hard to beat what they've got going on.
Best Talent - SPACE: Again, jazz is only a sliver of what SPACE programs, but they consistently bring big name talent into their intimate room.  And, yes, I realize it's in Evanston, but all the more reason to acknowledge for commitment to excellence in booking.
Best Traditional Jazz Club - Jazz Showcase: This club has been in operation in some shape, form or address since 1947.  Lots of national acts settle in here for extended residencies and quality is certainly a hallmark.  Sure, it's where a tourist might end up when looking for a Chicago jazz club, but the layout, location, and approach make it a quintessential "city" jazz experience.
Best For Experimental Jazz - Constellation:  If you like your jazz "out there", you'll have to move a bit farther out of the city's core.  Empty Bottle used to have a fine jazz series that featured the type of free jazz and post bop that fit nicely alongside the psychedelic rock and other acts that wear the term "noise" as a badge of honor. However, nowadays the torch has been passed to Constellation, which serves as a home base for this style of jazz, and they're doing the oddball stuff full time.
Best Dinner Jazz - Pete Miller's:  There are two locations of this establishment and both can provide you with some good jazz and a good meal.  Steaks and chops are the fare, but whether you're in the original Evanston location or the Wheeling outpost, you'll typically be a able to sink your teeth into some hungry local jazz musicians as well. "Never a cover and never a minimum."
Best Indie Jazz / Local Talent- Jerry's Sandwiches:  That's right.  It's a sandwich shop.  Cosmic sandwiches, as they like to advertise.  Their Wicker Park location also happens to be the home of a burgeoning jazz scene that gets a little cosmic itself.  If you like jazz made by twenty-somethings with nothing to lose and a ton of heart and promise, stop in for a sandwich and to have your mind expanded.
Jarretts

, your Hancocks and Coreas -- all in a space meant for a world class symphony orchestra.  Worth a visit.
Best For Rock Inspired Jazz - Martyrs: Concert jazz notwithstanding, there are still plenty of jazz-leaning rocks bands out there that can pack dance floors and Martyr's is the place to find some of the very best.  They've played host to Jimmy Herring and Steve Kimock in recent months.  They'll also book local and national fusion, NOLA-insprired funk and jambands that can definitely swing.  If you like the Jazz Underground, go ahead and pick a show in your wheelhouse at Martyrs.