Ten Things You Probably Didn't Know About Bob Marley
As one of the most recognizable popular music icons and the first superstar from the third world, there are certain things that virtually every informed music fan knows about Bob Marley.  We celebrate him as the rare individual who could represent the disadvantaged and downtrodden while still communicating a message of empowerment and positivity, wrapped in art that is both accessible and transcendent.  That said, I thought it'd be interesting to share ten things that you may not have known, things that help to put his career into perspective and help us understand the impact of his work on the music we listen to and the world we live in.
"My music will go on forever. Maybe it's a fool say that, but when me know facts me can say facts. My music will go on forever." - Bob Marley
1. Everybody knows Marley was a champion for African culture and identity, but did you know that his father was a white British naval captain?   He passed away when Bob was 10, but Norval Marley did support Bob and his mother financially.  Regrettably, he may have also given a gift that was not so welcome (see #10).
2.  The name Bob Marley has become iconic and synonymous with reggae music, but did you know this was not his given name?  Apparently, Norval Marley insisted on the first name of "Nesta", but the origin of this moniker remains unknown.  His original middle name Robert, was adopted as his first name when a Jamaican immigration official suggested that "Nesta" sounded too much like a girl's name.
3.  Everybody knows that Marley was a much honored and beloved the world over, but did you know that despite sellout world tours and multi-platinum albums, he never won a Grammy while alive?  Of course, this was rectified with a posthumous lifetime achievement award in 2001.  Even more impressive, Time magazine named Exodus the album of the century.  In life, Marley was bestowed with the UN Peace Medal of The Third World and Jamaica's third highest honor, the Jamaican Order of Merit.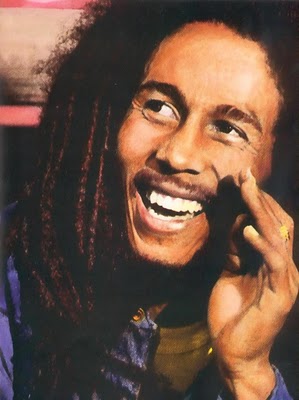 4.  Everybody knows Bob was a man of integrity and honor, but did you know he performed a free concert for 80,000 attendees in Jamaica days after a politically motivated attempt on his life?  In December 1976, Marley survived an armed assassination in his own home, bearing minor injuries in his chest and arm, and leaving others in the attack (his wife Rita and manager Don Taylor) with serious injuries.  While the rest of The Wailers remained in hiding, Bob took the stage with an apolitical backup band and proclaimed:  "the people who are trying to make this world worse aren't taking a day off.  How can I?"
5. Everybody understands Bob as a cultural ambassador for Jamaica, but did you know he spent some time in the US before his music career took off?  At the age of 21 he lived with his mother in Delaware for seven months.  The song "Night Shift" was based on his experience working at a Chrysler plant, and he was even employed as a laboratory assistant for DuPont Chemical.  I'm sure his infamous work ethic was much appreciated at these jobs --  in later years, he often led his band through rehearsals in marathon sessions that lasted all night and into the next day.
"America is pure deviltry, dem t'ings dat go on there. Dem just work with force and brutality. Dem lock out the punk thing because they see something happening. So the oppressors bring another man to blind the youth to the truth, and dem call him-John Tra-vol-ta." - Bob Marley
6.  Everybody knows that Bob was a devoted Rastafarian, but did you know that the roots of the religion are based on devotion to the Old Testament, and its most prominent features are taken from its text?  The distinctive dreadlocked look of Rastas is a reference to Leviticus 21:5: "They shall not make baldness upon their head."  Their notorious celebration and promotion of ganja is sourced from Psalm 104:14, that says: "He causeth . . . herb [to be grown] for the service of man . . . ."  Rastafarians even keep kosher.
7.  Everybody knows that Bob was no nonsense and tough, but did you know exactly how he backed up his image in action?  Pity his manager Don Taylor, who found out for himself... the hard way.  Never one for the material rewards of success (Marley claimed the only reason he owned a BMW was that the acronym also doubled for Bob Marley and the Wailers), it was a while before it was revealed that Taylor had entered into some unsavory deals and had embezzled a good sum of tour revenues.  Legend has it that, despite taking a bullet for Bob (see #4), Taylor suffered quite a beating as retribution and even "renegotiated" the terms of their arrangement at gunpoint, before actually being fired.
8.  Everybody knows that Marley was an electric performer, but did you know the type of jealousy his dynamic stage show incited in his fellow artists? In July 1973, the band opened a week of gigs for Bruce Springsteen. A legend in his own right, Sly Stone invited the band along with them on a 17 city tour as a follow up later that year.  Unfortunately, four shows into the tour, Sly dismissed them.  The reason:  they were too good and crowds went away talking too much about the opening act.
9  Everybody knows Bob had exceptional talents as a musician, but did you know that music was only a part of his elite talent? Bob was so good at soccer he probably could have played professionally.  Rumor has it that his table tennis skill was world class, as well.
10. Everybody knows Bob was taken from this world way before his time, but did you know the circumstance of his death and burial?  He suffered from a form of skin cancer called "acral lentiginous melanoma", a form of cancer that is very uncommon within black people -- but remember, Marley was of mixed race.  Diagnosed in 1977, he continued to write, record and perform until his death on May 11, 1981.  In one day, 40,000 people filed past his coffin as his body lay in state in Jamaica's National Arena.  Marley was buried in a crypt with a guitar, a soccer ball, a cannabis bud, and a Bible.
Happy birthday, Bob! Thanks for an incredible life and legacy.