Stream or Download | My Morning Jacket @ Taste Of Chicago 7/4/06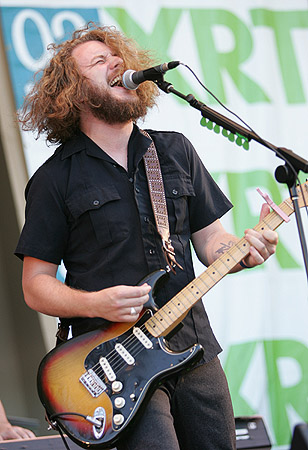 2006 was a big year for My Morning Jacket.
Z, considered by many to be a high point of the band's studio work, was released less than a year prior, and marked a decisive change in the band's sound, abandoning much of their gritty southern-rock roots in favor of a cleaner, more experimental style.
A massive tour took place to promote the record, which found the band headlining Taste Of Chicago. The show perceptibly depicts the band embracing this change, performing much of Z with the reckless abandon present in past records like It Still Moves.
From Jim James' screams during "Gideon" to the sheer ecstatic velocity of "One Big Holiday" to the bombastic, multi-sectioned "Lay Low," the band rips through a set containing many of their biggest tracks. "Off The Record" is particularly stunning as well, the band collaboratively taking its mellow instrumental outro to new heights.
Andrew Bird guests on multiple tracks, including an epic "Steam Engine," James introducing the local violinist as "one of Chicago's finest" and Bird taking an extensive whistle solo at its end.
James was also unusually talkative throughout, making for an interesting listen. "I like tasting things, that's why I came here," he jokes before "Golden."
The recording sounds great and the set is a fine example of My Morning Jacket's metamorphosis into the arena-rock superstars they are today. Download or stream the show below to get prepared for their upcoming three-night run at Chicago Theatre, which begins tonight.
The Stream
[box type="download"]Download Set (mp3 .zip) via WXRT Broadcast[/box]