Recap | Start Making Sense @ Martyrs'
By: Jesse McMahan - @JesseMixMan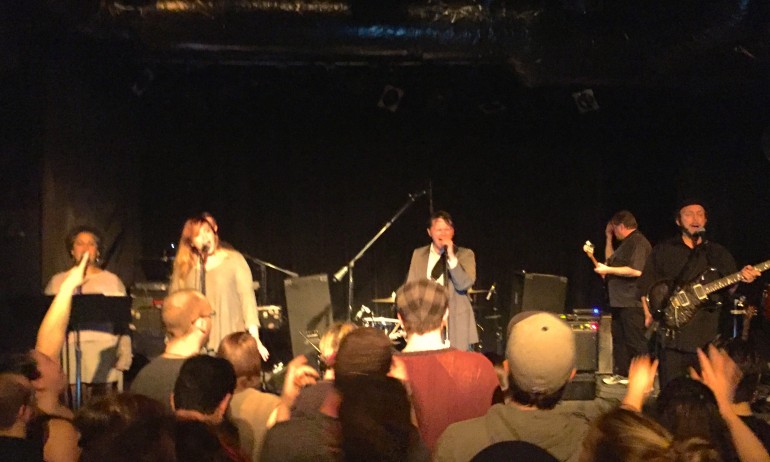 There's been a little hole in Chicago left when This Must Be The Band called it quits.
Luckily, one of their old stomping grounds, Martyrs', played host to Start Making Sense and the warm feelings came rushing back.
I walked into the venue just as Start Making Sense had taken the stage -- immediately the place went nuts.  As an admittedly huge TMBTB fan, this is hard for me to say.  But this band nails the music of the Talking Heads like none other.
Lead singer Jon Braun informed us that the Martyrs' show was one of the backup singers' first show with the band.  Impressive, as the harmonies were on point all night long.  It was the vocals that really made the whole sound of this band pop, and gave it life.
I was prepared for a set of hits and a Stop Making Sense set, but not in the order that it was offered.
It was the first set that featured the jukebox set, with a heavy emphasis on Talking Heads' mid-80s output: "(Nothing But) Flowers", "And She Was", "Road To Nowhere" were all represented.  "Born Under Punches" and "Houses In Motion" provided some Remain In Light deep cuts, while still preserving the integrity of Stop Making Sense. For me, a particular highlight was "Pulled Up", a sort of underdog tune that gets to the meet of the band's rawer 70s output.
The famed concert film was recreated in the second set, with a near perfect replication of the movie.  It was not lost on the crowd, who were very excited to sing along to these beloved tunes.  Smiles all around.
For my part... it was my birthday.  How could you ask for a better experience?