Setlist / Video | Jeff Tweedy @ Vic Theater, May 13 & 14, 2016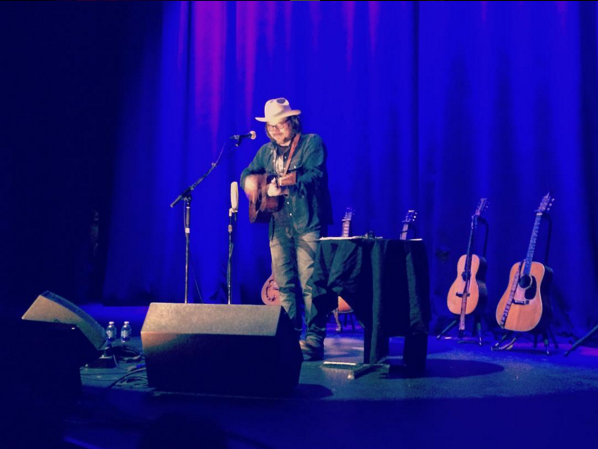 Jeff Tweedy performed two shows at Chicago's Vic Theater this weekend to benefit youth scholarships.  After the 2015 event was reduced to a single show, it's great to see him pack to the pair, especially since each show gave a different look.
Of course, the same house rules from years past still apply.  The first 30 people in line get to submit their requests (Jeff requested two songs each... just in case).  The whole affair takes on a very personal nature, not the least of which because of the classic stange banter.  This year's quips included a story about meeting The Ramones as a teenager in St. Louis and the story of his striped t-shirt on Friday (see the videos below), as good as most stand-up that has graced The Vic's stage recently.
He also pulled out a new song, "If Ever I Was A Child".
Saturday proved to be the family affair.  Fans may be used to seeing Spencer Tweedy drum with his dad, as they've done extensive recording and touring together.  But younger son Sammy also appeared, lending vocals to a pair of covers for the end of the set.
It also featured a four song stretch on the twelve-string (starting with "What Light"), and Bob Dylan's "Simple Twist Of Fate".
ViaChicago user bböp has assembled some great notes from FRIDAY and SATURDAY, where we also cribbed the set lists below.  Check them out for more details on these shows.
FRIDAY, May 13, 2016
Fake Fur Coat
Born Alone
Either Way
Where Do I Begin
Nothing'severgonnastandinmyway(again)
Too Far Apart
Nobody Dies Anymore
No More Poetry
Love Like A Wire [Diane Izzo]
Theologians
So Much Wine [Handsome Family]
Christ For President
Wait Up
ELT
Bull Black Nova
The Joke Explained
Screen Door
Please Be Patient With Me
new song-If I Ever Was A Child (aka Cry All Day)
Taste The Ceiling
Candyfloss
Radio King
I'm A Wheel
Airline To Heaven
Gun
The Thanks I Get
Hoodoo Voodoo
Dreamer In My Dreams
---------------------------------
California Stars
SATURDAY, May 14th, 2016
Misunderstood
Muzzle of Bees (started and restarted)
New Madrid
One Wing
Forget The Flowers
The Ruling Class
How To Fight Loneliness
New Moon*
Low Key*
At Least That's What You Said
What Light
Reservations
Secret of the Sea
When You Wake Up Feeling Old
Magnetized
A Magazine Called Sunset
Whole Love
Sunken Treasure* (no harmonica)
Simple Twist of Fate* [Bob Dylan]
I Can't Keep From Talking*
You Are Not Alone*
Only The Lord Knows
We've Been Had
Let's Find Each Other Tonight* [José Feliciano]
I'm Always In Love*
Just A Kid*
Thirteen^ [Big Star]
Give Back The Key To My Heart# [Doug Sahm]
-------------------------------------
Space Oddity [David Bowie]
Acuff-Rose
* — with Spencer Tweedy on drums and/or backing vocals
^ — with Sammy Tweedy on lead vocals and Spencer Tweedy on backing vocals
# — with Spencer Tweedy on drums and backing vocals and Sammy Tweedy on backing vocals