Setlist, Review, Stream, Download & Videos: The Gov't Mule Experience @ Riviera Theater, Chicago, IL 10/31/12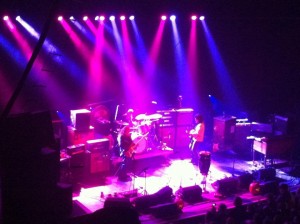 Gov't Mule
Riviera Theater - Chicago, IL
October 31, 2012
Set One: Blind Man In The Dark, Wold Boss, Larger Than Life, Gameface [1], Fallen Down > The Other One Jam [2], Kind Of Bird [3], Captured, Thorazine Shuffle
Set Two: Hendrix Interview, EXP > Are You Experienced?, Freedom, One Rainy Wish, Up From The Skies, Crosstown Traffic, Bleeding Heart (Peoples, Peoples, Peoples), Angel, And The Gods Made Love, Castles Made Of Sand, Stone Free [4], Rainy Day, Dream Day/Still Raining, Still Dreaming [5], 1983...(A Merman I Should Turn To Be) > Machine Gun > 1983...(A Merman I Should Turn To Be), Axis (Bold As Love)
Encore: Happy Birthday Jam, Sco-Mule* [6], Little Wing[5]
[1] Mountain Jam Teases
[2] Gimme Shelter Lyrics
[3] Get Up Stand Up, Wind Cries Mary Teases
[4] Third Stone From The Sun Tease
[5] with Chris Neal
[6] with Chris Neal, Smoke On The Water, Dance To The Music Lyrics
Stream Entire Show
 Download Entire Show (mp3 .zip)
Our friend Dave Weckstein was on the scene, here's the report that he filed:
When the hardest working man in the jam scene comes to town touting the Jimi Hendrix Experience one tends to tune in and listen. Warren Haynes and Gov't Mule have been doing "Mule-O-Ween" since 2007 and decided 2012 would be time to bust out a legend that wasn't Mayan related. The Riviera Theater stage was adorned with Jackass-O-lanterns (pumpkins carved with mule designs) and there was that familiar smell of Halloween throughout the venue.

Gourds weren't the only ones dressed to impress with a large contingent of the crowd donning their midweek best which included Han Solo, John Lennon, and Axl Rose among the notables. Some came straight from work with little fanfare for festive pagan rituals. But one thing they did come ready to devour were the sweet sounds from one southern gentlemen and his skillful guitar mastery.

The first set was a throwback to Gov't Mule's Summer Camp Moonshine stage set as they played "Fallen Down > The Other One Jam" complemented with the lyrics to the Rolling Stones "Gimme Shelter". "Thorazine Shuffle" off Dose (2001) was also a treat to here for long time Mule fans. Warren spoke to the crowd telling them they'd be right back in the holiday spirit. Time to reload the beverages...

One of the only musicians that could pull off the soulful voice of Hendrix and intricacies of his groundbreaking style, Warren delivered a collection of rare and famous Jimi classics in the second set. On "Little Wing", which Haynes pulled out for the last song of the encore, he played a white Fender Strat which was strung upside down in the classic Jimi lefty style. Though the mega classics of "Fire" or "Voodoo Child" were absent, highlights from the evening included "Castles Made Of Sand", "Stone Free" as well as the opener of "Are You Experienced" into "Freedom" complete with strobe lighting effects that were timed perfectly to the band coming onstage to a raucous frenzied fanfare. As I made my way to the exit I noticed more than a few Mule aficionados had passed out in their costume on tables. Somehow I feel Warren and Jimi would both approve.
Little Wing. Great shot of Warren playing the lefty Stratocaster....