Setlist, Stream, Download: Greensky Bluegrass @ Concord Music Hall 1/18/14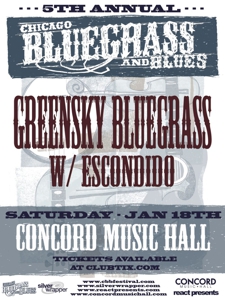 Greensky Bluegrass just wrapped the first leg of their 2014 tour.  There have been many miles put on the van since they played the second gig of the tour in Chicago as a part of the Chicago Bluegrass and Blues Festival, but this recording has surfaced just in time to keep us warm until the next leg kicks off in a couple of weeks.
They are blazing a red hot trail wherever they go, but Chicago shows do feel a little special.  In this one, they start bluegrass, before transitioning new grassy (David Grisman's "Eat My Dust") before settling into full-fledged Greensky territory on "Lose My Way".  The band welcomed Strange Arrangement's Joe Hettinga for a quartet of songs at the end of the first set.  Hettinga and Paul Hoffman played in a band together once upon a time "for about ten minutes", known as Stinkfoot, and it's always nice to hear some keys amongst the strings, especially they are setting up the foundation for a punchy version of Grateful Dead's "Mr. Charlie".
But the centerpiece of this show was the 18 minute version of "Don't Lie" which opens up the second set.  After detouring through Paul Simon and Boss covers and offering a smoking birthday tribute version of "Broke Mountain Breakdown", they still weren't finished.  Like the 11/30/13 show, which topped my list of all things musical in 2013, they reached for an Allman Brothers cover to cap a three song encore.  This time it was "Midnight Rider" and it is a testament to how well these guys are playing these days.
The Stream
[box type="download"]Download Entire Show (mp3 .zip)[/box]
Setlist
One: Windshield, Bringing In The Georgia Mail, Eat My Dust, Lose My Way, Kerosene, I'd Probably Kill You*, Wings For Wheels*, Mr. Charlie*, Leap Year*
Two: Don't Lie, Demons, Hit Parade Of Love, Broke Mountain Breakdown, Dancing In The Dark, Jaywalking, Gumboots
Encore: Working On A Building, Wheelhoss, Midnight Rider
* with Joe Hettinga (keyboards) of Strange Arrangement