Setlist / Review / Video | Kevin Barnes Covers Bowie at MCA 11/20/14
By: Alex Wood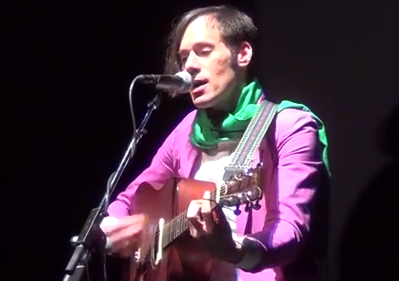 "It's kind of intimidating to be inside the body of David Bowie," Kevin Barnes said before performing "Queen Bitch."
The song opened a short set of acoustic Bowie covers performed by Of Montreal's singer at the Museum Of Contemporary Art as part of the David Bowie Is exhibit.
Of Montreal has consistently drawn comparisons to Bowie. The band's music shows heavy influence from 70s-era Bowie while their eclectic dress and stage shows reflect Bowie's glamorous, costume-clad performances.
The acoustic renditions of classic Bowie songs remained true to the originals, an indication of Barnes' reverence for the songwriter.
"Queen Bitch" was performed down to the pinky-finger blues-riff of the original, the audience sitting in complete silence.
"Star" and "Hang Onto Yourself" offered a glimpse of Ziggy Stardust-era Bowie, the singer's vocal delivery and use of dynamics essential in bringing the songs to life.
Barnes announced the next song as "not really a Ziggy song, maybe just a David Bowie song." "Fantastic Voyage," from Bowie's often overlooked Lodger, followed, with Barnes giving his all in holding a note toward the end.
"That's a hard note to hit, but inside Bowie's body you only get one chance," he joked.
"Moonage Daydream" sounded especially similar to Of Monteal in its acoustic form, the vocals sharp and melodic and lyrics drenched in surreal imagery. Barnes even included the spoken "freak out, far out," line at the end in a somewhat humorous fashion.
Following the twenty-minute acoustic set, Barnes sat down for an interview in front of the small audience. For the most part, the interview regarded Barnes' relationship with Bowie's music, offering the audience a rare chance to hear the singer speak about one of his primary influences.
Barnes joked that the acoustic set was a "karaoke thing…to be Bowie for a few songs." He avoided questions regarding his personal life, saying, "let's talk about Bowie, not me."
When asked which Bowie records influenced him most, Barnes answered, "the ones I go back and listen to the most are the early 70s… or really all of the 70s." He later stated that the first song he heard was probably "Space Oddity," claiming it was likely "in a commercial or something," though "the one I got into the deepest the earliest was Ziggy Stadust," which he compared to Sgt. Pepper's Lonely Hearts Club Band.
"The first musician to really speak to me was Prince, and it wasn't too big a jump to go from Prince to Bowie," he said. "We're all borrowing so much from different sources of information."
Barnes later continued speaking on being heavily influenced by artists like Bowie, stating that "it doesn't feel as lame to steal from something that's 30 years old as it does from something 3 months old."
"His lyrics are never boring," he said of Bowie, noting that there is a "reference point that makes it art and cool and not laziness."
The interview was opened up to audience members' questions.
When asked whether a musician can transform and become a new character today, Barnes quickly replied, "yeah, I think everyone does anyway."
Audience questions strayed far from the initial topic of discussion.
Barnes spoke of whether Dustin Hoffman knew of his early four-track recordings, most of which included the actor in their titles. The singer said Hoffman might have been told, but "probably didn't run out to buy the record."
When asked randomly about veganism and nutrition, the singer jokingly said, "I only eat factory farm chicken. It's the best."
The singer spoke on his love of the song "Quicksand," as well as his admiration of the museum's exhibit, which he toured prior to the show.
Though only an hour in length, the session offered Of Montreal fans a glimpse into the personality and inspiration of the mysterious but respected songwriter, his admiration of David Bowie unquestionable.
Setlist:
1. Queen Bitch
2. Star
3. Hang Onto Yourself
4. Fantastic Voyage
5. Moonage Daydream