Setlist / Review | Railway Gamblers @ Horse Thief Hollow 3/14/15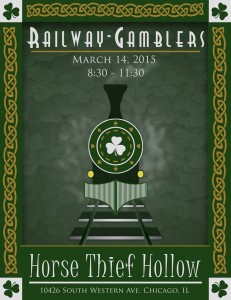 By: @WeirScrewed
While many Chicago's best venues for live music tend to skew north, some of the best local talent can be found south of Archer Avenue.
Brown Bag, The Leadfoot Band, and Caution have made a circuit of Americana/alt-country/bluegrass/jam bands that has been entertaining fans on the South Side over the past few years, with many gigs at Harte's in Evergreen Park, but also spilling out into music rooms across the region.  From this same scene comes Railway Gamblers, a quartet who dropped two sets at Horse Thief Hollow on Saturday night.  The folks at that Beverly brewery were in good spirits in advance of the annual South Side St. Patrick's Day Parade, which would be celebrated the following day.
The Gamblers' sound borrows heavily from the alt-country/Americana style and their songs blended well with the overall feel of the spacious venue. In the first set, the band mixed some solid originals such as "Troubled Mind", "Out In the Streets", "Layin' Lawn" and "She Rides" > "Fade Away" along with some well-placed covers.
The band's sound draws equally from classic rock and modern jamgrass.  Drummer Sean Wilmsen and bassist Joe Sexton found a nice rhythmic pocket while guitarists Brendan Folliard and Matt Fricks (ed. note... Matt is a frequent Barn contributor) crafted a warm, welcome acoustic/electric balance. A strong, twangy Americana version of Pink Floyd's "Time" closed out the first set to the delight of many in the crowd.
In the second set, the band took the stage with their catchy original "Diamond Road" before dropping into the Springsteen classic "Atlantic City", which had many in the crowd singing along. A nod to the impending holiday / parade, they threw some love to the Pogues' "Dirty Old Town". The Gamblers used the second set to introduce a couple new originals to the crowd including "Hanging Riverside" and "Stones' Throw" which included an extended jam and solid vocals. After a strong bluegrass rendition of the Dylan classic "I Shall Be Released", the South Side connection was made abundantly clear, with a cover of Leadfoot's "My Oh My."
It is safe to say that this band is coming into its own and it will be fun to see where they go from here.
This was my first visit to Horse Thief Hollow.  It is a nice little music room for folks from, or willing to pay a visit to, its South Side location.  Their list of craft brews made on-site includes the 18th Rebellion Kolsch, a 2014 Great American Beer Festival Bronze Medal winner. Pair this up with a visit to the historic Chicago institution Rainbow Cone, and you've got the makings of a great evening on the South Side.
Setlist:
Railway Gamblers
3/14/15
Horse Thief Hollow
Back Road
Sweet Virginia
The Devil's Song
Forget Everything*
Troubled Mind
Layin' Lawn (1)
Dead Flowers
Out in the Streets
She Rides->
Fade Away
Time (2)
Diamond Road
Atlantic City
Colorado
Losing Hand
Dirty Old Town (3)
Stone's Throw (1)
Hangin' Riverside (4)
I Shall Be Released (5)
The Tracks Song (6)->
My Oh My (7)
(*)- Greensky Bluegrass
(1)- New original
(2) first time played, Pink Floyd
(3) first time played, The Pogues
(4) new song, Brendan Folliard solo song played by full band
(5) Bluegrass version
(6) reworked
(7) first time played, Leadfoot Band