Setlist / Recap | Jeff Tweedy @ Park West 11/20/15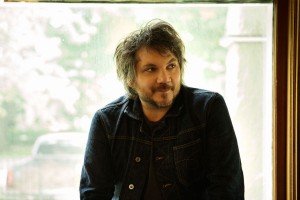 Acoustic sets are a familiar thing to fans of Wilco and Jeff Tweedy. They're a long-standing tradition for the Wilco frontman and have recently been closing out Wilco's shows.
Despite the familiarity, a Jeff Tweedy set always contains surprises.
Tweedy played an intimate show at Park West on Friday night with ticket sales benefitting the Oak Park River Forest Food Pantry, performing an eclectic set that stretched far beyond Wilco songs.
A.M. classic "Shouldn't Be Ashamed" opened the show, followed by Yankee Hotel's "I Am Trying To Break Your Heart," giving Wilco fans their fix immediately.
Uncle Tupelo's "New Madrid" followed, one of two Tupelo songs performed throughout the night, along with "We've Been Had."
"Hummingbird" and "Passenger Side" offered fans a glimpse of Wilco's more tender side, before Loose Fur's "The Ruling Class" changed the pace. Amongst Loose Fur's most accessible tracks, the song is perfect for the acoustic setting.
Another unexpected addition to the set was Mavis Staples' "You Are Not Alone," the title track from the singer's album produced by and featuring Tweedy.
Even more unexpected was a pair of Golden Smog songs, "Please Tell My Brother" and "Pecan Pie," a rare treat for Tweedy fans looking for more than Wilco covers.
The rest of the set featured Wilco songs, ending the set with the always climactic "I'm The Man Who Loves You" and "Misunderstood," with an encore consisting of Sky Blue Sky b-side "The Thanks I Get" and "A Shot In The Arm," the latter being the only Summerteeth track performed.
Using the 20-song set to explore songs from five different Tweedy projects, the performance proved the singer to be more than simply the Wilco frontman, exemplifying the power of his prolific musical resume.
Setlist:
Shouldn't Be Ashamed (Wilco)
I Am Trying To Break Your Heart (Wilco)
New Madrid (Uncle Tupelo)
One Wing (Wilco)
Hummingbird (Wilco)
Passenger Side (Wilco)
The Ruling Class (Loose Fur)
We've Been Had (Uncle Tupelo)
You Are Not Alone (Mavis Staples)
Born Alone (Wilco)
Jesus, Etc. (Wilco)
Please Tell My Brother (Golden Smog)
What Light (Wilco)
Pecan Pie (Golden Smog)
Outta Mind (Outta Sight) (Wilco)
Hesitating Beauty (Wilco & Billy Bragg)
I'm The Man Who Loves You (Wilco)
Misunderstood (Wilco)
Encore:
The Thanks I Get (Wilco)
A Shot In The Arm (Wilco)