Setlist & Poster: Brendan Bayliss & Friends @ Teddy O'Brian's, Highwood, IL 12/16/11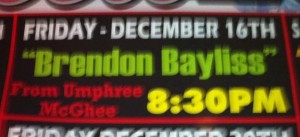 Not content conquering Chicago proper with special gigs on fall tour, two monster shows over Thanksgiving weekend and an acoustic holiday gig with Jake Cinninger at the Park West, Umphrey's McGee guitarist / vocalist played a bar gig out in the cozy bedroom community of Highwood on a December Friday night, with the proceeds going  to benefit a needy family.
To make him feel welcome, the good folks at Teddy O'Brian's (or should I say Teddie O. Brien's?) made no fewer than three spelling errors on the upcoming shows banner.
Joining him this evening was Barry Brown of Jack Straw and frequent Bayliss collaborator Mike Nolan.  The song list consisted of Umphrey's tunes smattered with some interesting covers.  Check it (via thebort.com):
Brendon Bayliss of Umphree McGhee
Friday, December 16, 2011
Teddy O'Brian's, Highwood, IL
Set One
Puppet String, Anchor Drops, Passing, Turn and Run, Nemo, Christmas Time is Here%, Human Nature%%, Vienna%%%, Made to Measure^, Uncommon^, Wellwishers^, New Song^, It Stoned Me^^, Susannah^^^
Set Two
In The Kitchen^ > No Comment^ > In The Kitchen^, Liar$, ??, Weight Around^, Hajimemashite$$, Benny and the Jets$$$, FF^^^, ??, August^ > "Cut the Cable"& > August^, Blackwater&&
Encore
Suite: Judy Blue Eyes
% BB solo instrumental on piano by Vince Guardia Trio (Charlie Brown)
%% Michael Jackson
%%% Billy Joel
^ With Mike Nolan
^^ With Mike Nolan & Barry Brown (Van Morrison)
^^^ With Mike Nolan & Barry Brown
$ With Mike Nolan (30db)
$$ With Mike Nolan (by Barry's request)
$$$ With Mike Nolan and Barry Brown (Sir Elton John)
& With Mike Nolan (11-5-11 Ringo Jam)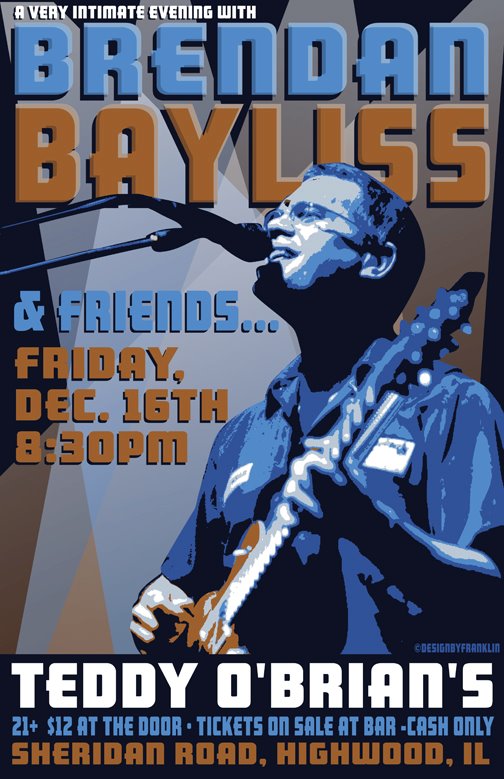 && With Mike Nolan (Doobie Brothers)