Setlist / Photos / Video: Snow Shoe @ Volcano Room 2/15/14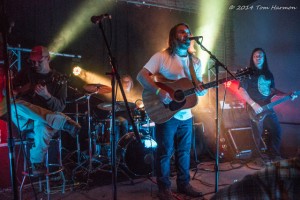 Great bands play in great bars and clubs every weekend -- hell, every day -- in Chicago.  What has always intrigued me is how you take such a routine occurrence and and turn it into an EVENT.
Old Shoe has succeeded in doing just that.  Saturday, February 15th at the Volcano Room at Bottom Lounge in Chicago wasn't just at gig… it was a festival, and by all accounts it had the energy, excitement and memorable moments of one. All in the dead of winter.
It starts with great music… and that was evident from the get go.  Pairing Shoe with Mr. Blotto (playing in a four-piece configuration), a match we've seen with increasing frequency lately is inspired, as Old Shoe has undeniably taken more than a few cues from the Chicago jam scene veterans.
Next, why not bring in a ringer?  Former Chicagoan Allie Kral has been something of a freelancer lately.  After her artist-at-large appearance at the 2013 edition of Shoe Fest, it was clear that Old Shoe provides her with a comfortable space to stretch out, and she made herself at home on the majority of their set on this night, including a reprise of their Shoe Fest Paul Simon cover.
Old Shoe Setlist

Day Rains Night, Family, Let Yourself In, Kush, Mystery Train$ > Mouth of the Lion$, Better Idea$, Welcome Home$, Boogie on Reggae Woman$ > Got Me Down$, Beer$, Star$, What I Am$, Diamonds on the Soles of Her Shoes$, Dust Bowl$

$ w/Allie
Add some fine support in Borrowed Bicycle, who opened up the show and Soap, who carried the late night, and you've got a lineup that is certainly festival worthy.
In a not-strictly-necessary but entirely-welcome-over-the-top kind of way, having live painters and craft vendors put a whole other light on the proceedings.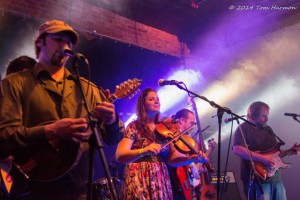 But the true spirit of the Snow Shoe festival rested on the shoulders of the attendees.  When you get out for a show like this, it's like you're in on something. Plenty of smiles and goodwill abound to heat up an otherwise frigid mid-winter's night.
Our man Tom Harmon was on hand to capture it all --  with a few dozen shots of just about everything.  All the bands, the guests, the crowd, the "little things" that transformed this gig into the event that it became.
Scroll past his gallery for a few videos shared by Greta Jolie Photography, which do all of the above, and also capture some fine Shoe jamming on the "Day Rains Night" opener and "Kush".
Click on a photo to embiggen (and scroll through at full size).

Old Shoe performing at Snow Shoe, February 2014 Chicago from gretel jolie on Vimeo.