Rolling Stones Ticketing: Consumer Ripoff or Scalper Beating Genius?
For a time, I had the craziest vision of the scene at the three Rolling Stones shows scheduled for the United Center later this month.  The shows were announced with the usual hype and all-out media blitz, but the winds of excitement quickly died down soon after the initial on sale.
The public was more outraged / indifferent than pumped when the price list was revealed for tickets to see these rock legends, even though it (this time for real) could be their last time mounting a huge tour. Mick Jagger even cheekily noted to journalist Greg Kot that he'd like to think there were tickets priced for everybody.  The reality: the majority of the arena was priced at well over $600 per ticket and thus the 300 section, "reasonably" priced at $150-250 per seat, sold out in minutes, leaving much of the rest arena relatively empty -- blocks of 6 or 8 tickets in a row remained available on the floor and in the lower bowl long after the initial onsale.  My crazy vision: a tightly packed nosebleed section while the band played to a large nearly empty swath of seats down below.  Those who have been to the UC know how ridiculous of a prospect this seems.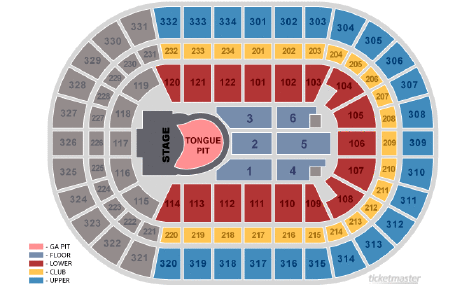 Despite this, the second and third Chicago shows were quickly added to the tour roster with the first being far from a sellout.
Then, quietly, the Stones announced that a more affordable option would accompany the many tickets still available at face value. They would give fans the opportunity to purchase $85 tickets that would be randomly allocated to various parts of the arena, even the $1500 general admission Tongue Pit.  The catch? Fans would have to put in an advance request for these ducats and would be notified if a pair of these 'limited' seats would be available on the day of show, getting the location only after showing up at the venue.
The result of this offer?  Blocks long lines to claim $85 seats for their LA show opener, eventually resulting in a sell out.
https://twitter.com/WesBrodsky/status/330503039188340739/
So, what initially appeared to be a blatant gouging of their fans may in fact turn out to be a shrewd business move and actually at least semi-fan-friendly.  Why?  It's clear that the Stones would have no trouble selling out an NBA arena, even for three nights, at $85 per seat.  However, if  all seats were offered to the public at that price point, thousands would be snapped up by scalpers and speculators, forcing fans into as situation where they'd be forced to engage a scalper if they really wanted in.
As it played out, the Stones have effectively scalped their own tickets -- and they did it right in the open instead of some shady back room like most bands do. And while some people ended up paying exorbitant prices, that revenue went to the band and the promoter instead of some scummy middleman who adds limited value in the process. And the people that did buy face value tickets?  Obviously they thought there was value at that price point, could afford it and wanted to guarantee entry.
Further, those $85 tickets are scalper proof. Locations won't be divulged until you show up, with ID, at the arena. These are going to people who are willing to drop everything and see the Stones on a moment's notice -- a true fan. Can't stand the uncertainty?  You can always pony up for a fave value ticket... if you think it's worth it.
Still, there are elements of this scheme that are pretty shitty. Clearly, $85 ticket holders will have better seats that anybody who quickly snatched up seats in the 300 level, thinking that this might be their only affordable option.  It would be nice of those folks who shelled out got an option to upgrade seat locations or refund for a chance at an $85 seat.
In any case, this may very well be a glimpse at the future of ticketing.  What would you think if your favorite band decided to go this route?