Riffing With A Hootenanner: A Conversation With Tim Lydon
Despite that fact that the Chicago version of Live Band Karaoke has been gigging since 2002, LBK has existed under-the-radar even for some hardcore live music junkies and karaoke fans.  Admittedly, I too was curious about the ins and outs of a constantly performing live karaoke band. Recently, I had a chance to touch base with Tim Lydon, the drummer for the Hootenanners, the incarnation of LBK that will take the stage at The Barn's Live Band Karaoke event on Saturday, March 13 at The Mambo Room.  The first thing that struck me was that Tim has the perfect attitude for this type of gigging and his absolute love of music just oozes from his every response.  I was happy to say that I learned a lot and perhaps got a bit more charged up for Saturday's festivities.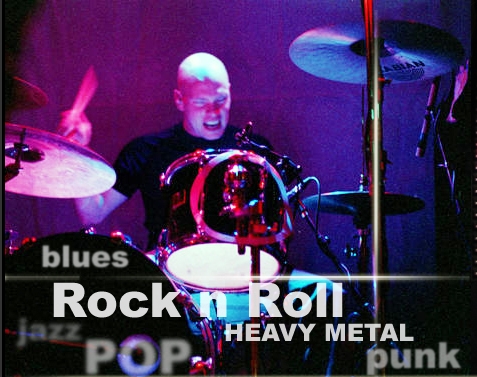 Since joining in 2003, Tim has been a part of the evolving Live Band Karaoke collective.  Conceived just a year before by founder Scott Shell, this combo was a reaction to a vist by Shell to the seminal Punk Rock Live Band Karaoke at Arlene's Grocery on the Lower East Side of New York (a summary of which is brilliantly captured in Brian Raftery's karaoke tome Don't Stop Believing:  How Karaoke Conquered The World And Changed My Life).  Shell's simple thought was taking the punk aesthetic of that scene and translating it to all sorts of music.  Soon, weekly residencies were established here in Chicago and it only gained momentum from there.
Lydon looks fondly at the weekly gigs in the city, which have helped shaped the band in more ways than one.  "Performing at our residencies helps establish a great rapport with the clubs, the patrons, and we get to hone in on what works for everyone," he says. "Plus, we get to try out new songs we're adding for warmups and soundchecks, depending on the gig. Two of our residencies have been going for 5+ years now and we've met people from all walks of life that, in some instances, became close friends of ours."
Building on this foundation has taken the band to some interesting places. "No crowd is ever the same," Lydon explains.  "We've done everything from crackhouses to arenas.  The bar crowds are always fun, but when we do colleges and it's packed to the back of the room; those are our favorites because we were those same kids losing our minds at shows too. It reminds you that you're forever eighteen!"
One recent college gig stands out.  While The Hootenanners played on the road at Amherst College in Massachussets, a group of students requested to perform  "Shoop" by Salt-n-Pepa.  In true "anything can happen" karaoke fashion, these kids had practiced moves from the video, had coordinated outfits and absolutely nailed the vocals (not any easy song to sing).
Okay, so not every performer comes to play like that, but Lydon suggests "there haven't been too many train wrecks to be honest".  Unique interpretations of the material is all part of the experience, though not every request can be replicated by the band.  "We are all really particular about sounds and representing the recorded songs as close as possible. Although, we have done songs like 'The Lion Sleeps Tonight' as a special request and all signs point to a disaster, but it came off quite well actually."  Ditto for requests for songs from bands like Chicago and Earth Wind & Fire.  "We simply aren't equipped with a full horn section...unfortunately!"
Despite that, the band updates its song lists regularly.  They have have a message board on their website where audiences can post song requests, or they can be delivered in person at shows.  They also encourage community participation through their facebook page.
I asked Tim if the tables were turned, and he was able to perform drumming karaoke with any live band, who might he choose to sit in with.  "For me, personally, it would have to Van Halen or Rush," he quips.  "Drumming karaoke to 'Hot For Teacher' or 'Tom Sawyer' would be five hysterical minutes of beautiful rhythmic chaos."  He loves the rock anthems (he considers Springsteen, Van Halen, Oasis and Iron Maiden his "go to" bands), and through his drumming and backing vocals with The Hootenanners, he is giving everybody the opportunity to connect to the music they love in a satisfying and highly participatory manner.
When asked for advise for those who might feel intimidated by getting on stage with a live band, Lydon doesn't hestitate.  "Our motto is... once you go live, you never go back!"  Now THAT is some advice to take to heart.