Review / Video | Gary Clark Jr. @ The Riviera 4/1/16
By: Amanda Roszkowski | Photos / Video: Wyatt Brake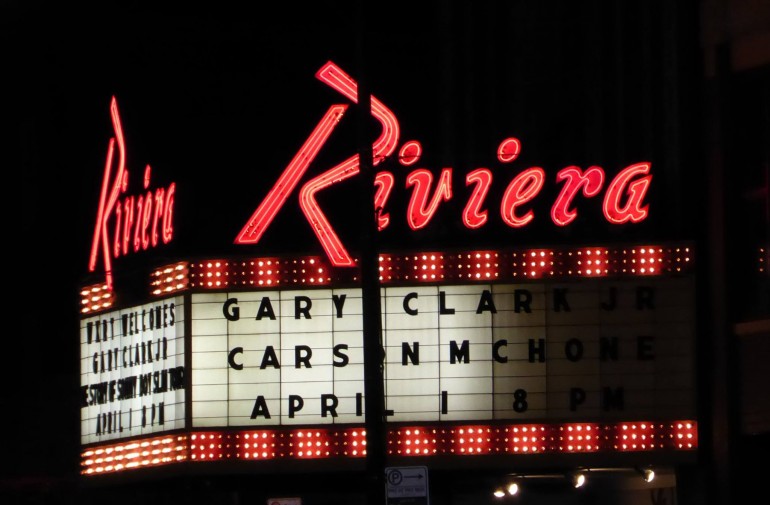 Going from featured festival performer to theater headliner is an important transition, and one that can provide a whole different perspective on an artist.
Headliners can offer a bit more drama and showmanship.  When the lights dimmed on Friday night, a shadowy figure -- tall and lanky -- stepped to the sage to the wild approval of the audience. No, we couldn't see his face, but we knew the guitarist Rolling Stone had named "Best Young Gun" in their Best of Rock addition was about to perform.
The eager applause yielded to the sweet sounds of Gary Clark Jr.'s guitar riffing, as he and the band broke into "Bright Lights." Opening with one of the hits may not be a part of the script for most acts, but like the Austin-born guitarist's effortless swagger, it just made sense. There's nothing like jumping right into the deep end and starting a performance off with a bang.
I'd seen Gary Clark play two other times before -- at Lollapalooza 2013 and North Coast Music Fest in 2014. But, the forty-five minute festival slot doesn't quite deliver on the the promise of this artist or his talents.  At The Riveria, Clark's electrifying guitar performance captivated for the entirety of the nearly two-and-a-half-hour show.
Gary has the ability to offer Jimi Hendrix-inspired guitar as well as a soulful croon (Ben Harper comes to mind). Halfway through his show, he broke into Black and Blu's "Numb" and nearly eight minutes of guitar action. Yet, later he ended his five song encore with The Story of Sonny Boy Slim's "Church," a calming, sexy and soothing track that lulled the audience with silky vocals.
A full performance like this adds so much more than simply running through his recorded output, or the sampler of the festival set.   Check it out and you won't be able to listen to his albums the same way again.
Setlist
Bright Lights
Ain't Messin 'Round
When My Train Pulls In
If Trouble Was Money [Albert Collins]
Travis County
Hold On
Our Love
My Baby's Gone > Numb
Don't Owe You a Thang
Cold Blooded
You Saved Me
Shake
Encore:
Please Come Home
Down to Ride
The Healing
Things Are Changing
Church