Review / Photos / Stream / Download: Edward David Anderson @ Martyrs 5/3/14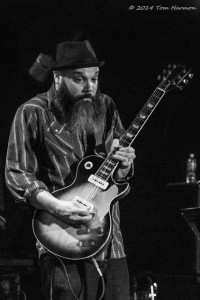 Words: Alex Wood
Photos: Alex Wood & Tom Harmon
Edward David Anderson's album release show at Martyrs' was about more than his new full-length, Lies & Wishes. It felt like an odd family reunion, old friends gathering together joyously to see Anderson perform with a band after years of patiently waiting.
Yet perhaps the most joyous member of this party was Anderson himself, who wore a smile throughout his entire two-hour set and performed with unparalleled enthusiasm.
And to put it simply, that guy can design a hell of a set.
First, Anderson performed Lies & Wishes in its entirety, front to back, introducing nearly every song with tidbits of information about their creation.
His four band members beefed up the songs by adding distorted guitar to the title track and an impressive keyboard solo to "Lost And Found," Anderson bouncing around stage as the others soloed.
"I'll send this one out to my dad over here," Anderson said prior to "Son Of A Plumber," motioning to the seated section of the venue.
"Pins & Needles" stood out as a highlight, its boisterous riff hitting especially hard, cutting out any existent background noise in the venue with sheer volume.
"Taking It Out On You" sounded like Backyard Tire Fire, Anderson taking his first extended guitar solo of the night over a heavy, chugging, alternative-rock backing.
The music was still centered around Anderson's vocals and songwriting, songs like "Nothing Lasts Forever" and "The Next Melody" having almost anthem-like qualities, their catchy choruses and hooks reaching a delighted audience dancing to the light, bouncing melodies.
As a whole, the new album sounded as great live as the existent studio version, the simplicity of Anderson's impeccable writing remaining a blueprint on which the musicians could expand. Anderson rarely, if ever, changed tunings or used a capo throughout the set, proving there was little more than good old-fashioned songwriting behind the remarkable set of songs.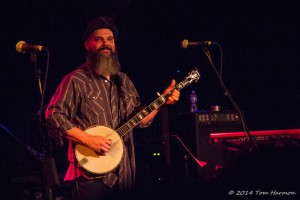 Though the band could have stopped there, the night was just beginning.
The band walked off stage, leaving Anderson alone at the microphone to perform a set of songs on banjo, a recent passion of the songwriter.
"Tears At Bay" held all the energy of the full band performances, its fast banjo picking accompanied by Anderson's timeless vocal performance, complete with a well-timed "hey" at the end of each verse.
John Prine's "Spanish Pipedream" was performed to much applause, the audience now a little looser and ready to dance.
Fortunately, Anderson was ready to again take the set to the next level, inviting the band back on stage for a set of older songs, b-sides and Backyard Tire Fire tracks.
Using "I've Cried My Eyes Dry" as a transition, the band worked their way to "Hiding At The Hollows," a new, unreleased song that became a highlight of the evening, its country stomp becoming a dirty, lengthy, southern-rock jam. With Anderson soloing for four or five minutes on his electric Les Paul, the track sounded as if it could have been Drive-By Truckers at their best or even early My Morning Jacket. To say it rocked would be a massive understatement.
The completion of the tune was followed by a short-but-impressive piano solo, followed by Tire Fire classic "Good To Be" with opener and longtime friend Chicago Farmer joining for vocals and acoustic guitar. At this point the crowd was ecstatic, singing along and dancing wildly.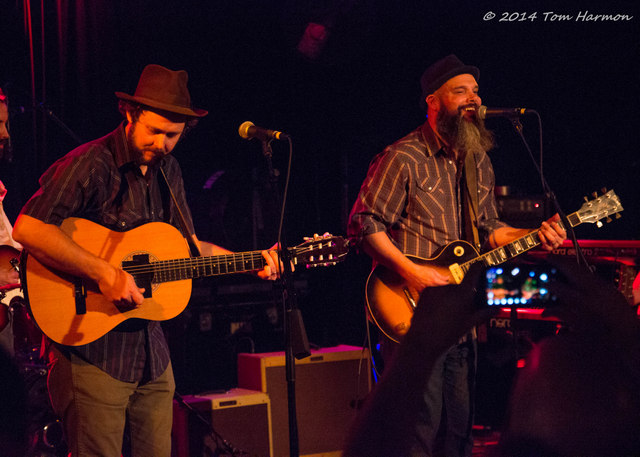 The set closed with two romping electric jams, long instrumental passages keeping energy high, as though the entire set built up to them and the band could finally unleash their full abilities.
The band returned with a two-song encore including The Who's "Eminence Front." Delivered with a funky rhythm, the cover brought the party of a night to an absolute high point, the audience still dancing after more than two hours of music.
Anderson left stage with sincere gratitude for the fan base, only to be pushed back on stage for a second encore.
Alone on stage again, he looks at the cheering audience and, with a smile, asks, "I mean, really?"
Anderson followed with an emotional performance of "A Long Time" from Tire Fire's 2007 album Vagabonds And Hooligans, a treat for the audience who clearly held the songwriter in the highest esteem.
Both openers were close friends of Anderson and one another, adding to the intimacy of the show.
Charlie Parr's roots music opened the concert, the singer's sharp voice instantly turning heads upon beginning. Dressed in an oversized flannel, raggedy grey pants and sandals, the long-haired musician seemed out of place in the city but a perfect match for the evening's lineup. With exceptional finger picking skills and timeless vocals, songs like "Samson And Delilah" kept the audience in awe.
Chicago Farmer followed, telling long-winded stories over simple folk songs, delivered with charm and a keen sense of humor. Constantly interjecting Chicago references of baseball teams, weather and local neighborhoods, the singer felt like a hype man for Anderson, keeping the crowd entertained and looking forward to the coming performance.
Both the performers and the audience felt like a group of friends in on the secret of Edward David Anderson's songwriting, a talent that far too few have realized the extent or depth of and a talent that no attendee of the Martyrs' performance could possibly doubt.
The Stream
[box type="download"]Download Entire Set (mp3 .zip)[/box]
Setlist:
1. Lies & Wishes
2. Lost & Found
3. Son Of A Plumber
4. Pins & Needles
5. Taking It Out On You
6. I Missed You
7. Nothing Lasts Forever
8. Chain Reaction
9. Fires
10. The Next Melody
11. Tears At Bay (Ed Solo)
12. May The Sun Shine Down On You (Ed Solo)
13. Spanish Pipedream (John Prine… Ed Solo)
14. I've Cried My Eyes Dry
15. Everybody's Talkin' (cover of Harry Nilsson covering Fred Neil)
16. Hiding At The Hollows
17. Good To Be
18. Seasons
19. We've Been Had (Uncle Tupelo)
Encore 1:
20. Eminence Front (The Who)
21. You Got To Lose (Ike Turner)
Encore 2:
22. A Long Time (Ed Solo)