Review: Fresh Hops, Brown Bag, Joe Marcinek Band, Catfish & The Dogstars @ Martyrs 10/2/12 (includes photos & audio)
Words: Dave Weckstein, Images: Caitlin Jefko
As we enter the first full month of fall, I decided to immerse myself in a night at Martyrs, one of my favorite Chicago music venues. On Tuesday, October 2nd, the club played host to four talented jazz influenced acts. While changing weather may leave some longing for the warm rays of summer, those in attendance who were brave enough to endure a hump day hangover, got a hefty dose of good vibes and funk driven tunes.
Fresh Hops, the six piece band out of the Tri-town Indiana area smacked everyone in the face with an uptempo instrumental opener called "Pleaidian Love Song No. 3 (BirdBath)". Violinist Stephan Cook and Guitarist Joe Marcinek traded the first solos of the night before letting Adam Turman on Saxophone strut his stuff. Ian Gill on 7-string bass lent vocals to "Heart Under Ground" which featured a Latin beat that reminded me of Rusted Root. Not many bassists showcase the 7-string, but Gill's deft command of it was top notch and never seemed forced.
With its tongue twisting title, "Grammatically Chromatic" led with a Jimi Hendrix-inspired riff that also wiggled its way into some pretty big guitar solos from Marcinek and Guitarist Matt VanVlymen. It ended with something delightfully Chicago when Cook yelled out "Polish Sausage" into the mic. The ensuing improvisation grabbed more than my attention and complemented the gypsy jazz number's breakneck pace. The entire set was comprised of originals with one exception: Little Milton's " That's What Love Will Make You Do" which was ably belted out by Cook. Ending with "Happy Lettuce", a Marcinek penned number, I now understand why one musician exclaimed "I always feel out of shape after a gig playing with Joe". The crowd seemed to enjoy, as did I, a playful tease of War's "Low Rider" to close out a strong six song set.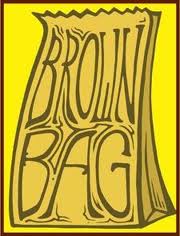 Brown Bag stayed true to their South side roots, back with their drummer Matt Rezetko for their first show since their Shoe Fest appearance. They started their set off fittingly with a song called "Manteno", the name of the town where the festival took place. Consisting of Dave Waterman (Vocals/Guitar), Mike Ellis (Keys/Vocals), Jack Pieroth (Bass), Dan Cantone (Guitar/Vocals), and Matt Rezetko (Drums/Percussion) the set had a decidedly delta bluesy rock feel to it with subtle Stevie Ray Vaughan undertones -- these were distinct enough to set themselves apart from the jazz sandwich of Fresh Hops and Joe Marcinek Band.
Part of what made them even more appealing was their witty banter and energetic stage antics that captured their exuberant good-hearted nature. After the band called a group social they actually started to play even tighter and more cohesively. Waterman has a voice that morphs and elevates to the style and song. Sometimes sounding like Jim James of My Morning Jacket sometimes, like in "Baby, Can I Buy You A Beer", his voice deepens into a haunting Geen Ween impersonation. I enjoyed how Dan Cantone sat atop his perch in a Steve Kimock pose at times playing his guitar with a slide technique. "Southside Love" got a few ladies practicing their best waltz moves on the dance floor as the doo wop number was sang soulfully and sweetly by Waterman. Ending with the beautifully harmonized "Dell", Waterman again switched his vocals -- this time to a Wilco-esque middle of Americana folk twang.
The most recent incarnation of The Joe Marcinek Band featured a seven piece ensemble including Joe (Guitar), Buddy Pearson (Bass), Waz (Keys), Pete Koopmans (Drums), Paul Abella (Percussion), Stephan Cook (Violin), and Adam Turman (Sax). JMB had a decisively heavier jazz influence than any of the other three acts on the bill. Buddy Pearson is a whiz on the 6-string bass playing a Victor Wooten style thumb upstroke, complemented with a facial expression that can be politely described as a jazz o-face. "Sun God" showcased a piano laden crescendo with a driving inertia that keeps your feet constantly tapping.
The band expertly played an instrumental version of Stevie Wonder's "Living For The City" which roused the crowd and was a precursor to the the upcoming Abbey Pub Halloween show (10/27), in which Marcinek, Waz, Janis Wallin (bass, Family Groove Company, and Mattias Blanck (drums, Family Groove Company) will tackle an entire Stevie set, with guest vocalists Anne Katzfey (56 Hope Road), Jaik Willis, and Pete Jive, and the horn section from Genome (plus a few more surprises) will perform an entire Stevie set. The rhythm section of JMB during the evening was working it hard with Paul Abella reaching into his percussionist bag of tricks and playing a mean cajon solo on "Hyperbole". Another highlight of the evening was Pete Koopmans drum solo toward the end during which he exaggerated his movements and made his arms seem like twice the length they appeared... all without missing a beat.
It's been awhile since I have checked in with Catfish & The Dogstars and this set led me to regret this decision. The band is simply good old fashioned jam-jazz-funk laden fun. No longer a backing band, they have developed a following that was noticeably felt as the Martyrs dancefloor became cozier towards last call. It's easy to explain why their fanbase has grown: tight changes from Guitarist Mike Morgan, Colin Nordine singing pitch perfect behind his high hats and drums, Dan Rogers playing his 5-string with authority, and classically trained flying V violinist Najeeba Syed bowing eloquently into the evening. It all seamlessly melds together into composed art. After the set kicked off with originals "Pieces of Mind" >; "ETC", "TBD>; Scum>; TBD", the band treated us to the first time played "Fields" before closing with "Dead Luck". It was enough to warrant an curtain call in which the band fittingly played Frank Zappa's "My Guitar Wants To Kill Your Mama" in tribute to one of the band member's mothers in attendance.
Listen (Catfish & The Dogstars Set)
[mp3j track="Full Set 10/2/12@http://www.thebarnpresents.net/music/catfish/20121012/catfish20121012.mp3" flip="y"]
;
The evening began with Scott Larson, an acoustic folk guitarist and native to Schererville, IN, strumming out original tunes. His shoulder length hair and "musician kept" beard reminded me of Dave Schools, though it was in his physical presence only. His voice has a measure of soul that bordered on grit, but exudes melodic midwest rather than southern sultry. "Time Is A Virtue" was the bookend that showcased his singer/songwriter talent perfectly and gave everyone's eardrums a rest as he intricately picked and mused as the audience tricked in.
[gallery link="file" columns="2" orderby="ID"]