Review / Audio: Ragbirds & Birds Of Chicago @ City Winery 3/21/14
Contributed By: Ashley M. Downing
I have always heard that birds of a feather flock together. This was recently proven to me first-hand when The Ragbirds and Birds of Chicago gathered together in the windy city for an intimate evening at City Winery. I arrived to the venue just before the sold out show began; eager to watch the birds take flight.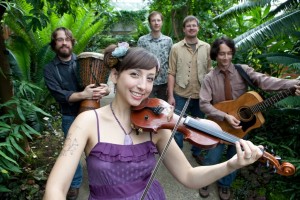 The Ragbirds played first, putting on an impressive performance with their dynamic and eclectic '"global folk music." They are truly captivating live, and their earthy sound is utterly charming.
Multi-instrumentalist, musical powerhouse Erin Zindle leads the band with her vast musical and vocal talents. This woman is brilliant when it comes to songwriting, and everything the band does highlights this. The Ragbirds make music connects with you on an intimate level as they speak to you through distinct melodies and worldly rhythms.
Randall Moore is a highly evolved percussionist, making every song intriguing and interesting to listen to.  Depth is added to their clean sound through gritty guitar playing of Erin's little brother TJ Zindle, who adds an edgy rock and roll vibe to every tune.
I love not only listening to the unique music of The Ragbirds, but also watching all 5 of them switch instruments with ease. On a couple tunes, including "I'll Fly Away," everyone played percussion while singing. This band of musical travelers also played some new material during the show, including a song they tentatively titled "Little Knots," which will be on the new album that they are now in the process of putting together.
I found it quite odd that no one was dancing during their performance, especially since the sold out show featured music filled with such intense rhythms and beats. While both bands sounded great, the crowd to be distracting and disheartening. It was honestly weird to see so many people sitting there watching the musicians perform, without any expression or reaction to the music. Both bands brought a ton of energy and it would have been nice to see people get up and move to it… I know I wanted to!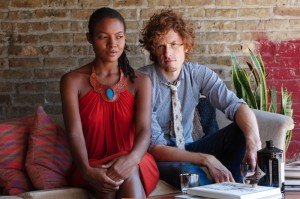 The night quickly changed pace as Bird of Chicago took over the stage with their indie- Americana folk music. JT Nero and Allison Russell are a solid power couple who musically thrives together. They both are talented singers, and they take each song to new heights with their outstanding vocal abilities. JT, who also plays guitar and percussion, has a soulful voice and when it is combined with her warm, bright tones the sound is undoubtedly beautiful.
They were joined by a full band as they began their set with "Nobody Wants To Be Alone Nobody Wants To Die." Allison skillfully changed instruments throughout each song, and as I listened to her play the banjo, guitar, ukulele and clarinet, I realized I would never be able to pick favorites from this set.
The band was touring in support of their new album Live From Space and throughout their electric performance, the couple spoke proudly about their love for Chicago, mentioning more than once how excited they were to get some time there within their rigorous tour schedule.
The Birds are currently working on a new album which they plan on recording here. It is beautiful to watch these two Birds share energy together when they perform. You can literally see and feel the insane amount of love and respect they have for each other. The BOC set included "Sugar Dumpling," "Firespitter," and "Trampoline" before they come out to encore with "Love Kills Shadows/Fever Dream."
It is nice to see so much love come together within one band, let alone two. These bands are extremely environmentally conscious when touring and now both front-women are new mothers, and touring with their bands and their infants.
Seeing them together at City Winery made for a gorgeous evening, and I am grateful I had the opportunity to see all these birds perform together. In Chicago, it was a lovely night was for the birds.
Here's a stream of the Ragbirds Bloomington, IL set from the following week and a Spotify embed of BoC's live release.
[box type="download"]Download Entire Show[/box]