Review | Aqueous @ The Original Mother's 3/24/16
By : Ryan Mannix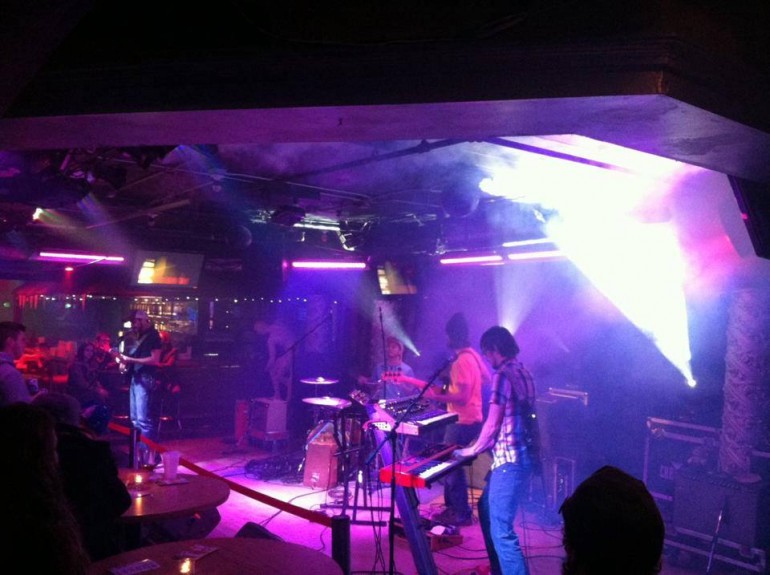 I got a chance to speak with Aqueous guitarist Mike Gantzer before Thursday's show at Chicago's The Original Mothers.
He described the band's sound as "groove rock", and while that definitely applied for the dancing crowd, he might be selling the band a bit short.
Might I suggest "improvisation-heavy groove prog-rock"? Certainly more fitting, if not more wordy. These guys are one of the tightest bands coming up right now, and its a real treat to see them at a small venue (even if it had to be The Original Mothers).
The sound was great throughout the night, complemented nicely by their light show, which they bring on the road themselves. That's a staple of a band that truly cares about creating a special experience for its audiences.
The Aqueous sound fits very much into the jam band space carved out by Umphrey's McGee and Phish. Intricate instrumental passages and high energy shredding were plentiful. Both "Numbers and Facts" and "Underlyer" showcased the band's craft well, and were personal highlights.
They worked in some low hip-hop sounding jams throughout, weaving textures of synths and guitars into a psychedelic blanket. They are primarily a two guitar band, but Dave Loss holds double duty on keyboards, which really opens up their sound and gives them a unique voice.
A spot on cover of Radiohead's "Paranoid Android" got the intensity up, and even led to some reggae interplay. Radiohead is a clear cut sonic influence on the band, and I don't think any other band in the scene could do as good a job with such a complicated tune.
Aqueous is going to be all over the festival circuit this summer. They are an exciting and dynamic bunch that offer both a guaranteed fun time, and music that gets your brain moving.
Mr. Constant brought some ripping composed jamming to start the night. It's hard for a three piece to fill out the sound, but they managed to keep things interesting.
Fast tempo, danceable funk was their go-to, even busting out a cover of Phish's "Sand". I think these guys have a similar style to other Chicago group, EGI (who we featured in a local spotlight a few weeks back).