RAQ Is Coming Baq To Chicago, Will Play Late Night Post #Dead50 Gig With The Werks 7/4/15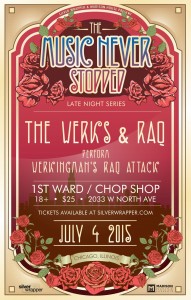 RAQ had an affectionate Midwest following in the 2000s, playing some key Chicago gigs during their reign as a buzzy next generation jamband.
While Chicagoans were as disappointed as any when the band suddenly called in quits in the latter part of the decade, we haven't had the pleasure of one of their sporadic "reunion" gigs in the last few years.
So, of course, the band has added Chicago to their itinerary.  When?  The already jam-packed GD50 weekend.
RAQ will play a gig --labelled as Werkingman's RAQ Attack -- with The Werks at 1st Ward Chop Shop.  No word yet on weather that implies any Grateful Dead connection other than the obvious post-show timeslot.
Tickets are on sale 5/15 and are $25 via clubtix.com.
The announcement comes as a part of another wave of shows and updates for The Music Never Stopped series.  Particle will also play Lincoln Hall that night and Beats Antique has been added as support to the Thievery Corporation show at the Aragon on July 2nd.  Our events grid has been updated accordingly.
Check out the entire show from RAQ's 2006 visit to Martyr's -- including their typically aggressive take on Fare Thee Well participant Bruce Hornsby's "The Way It Is" -- streaming via archive.org below.