Preview & Ticket Giveaway | Thievery Corporation @ Aragon Ballroom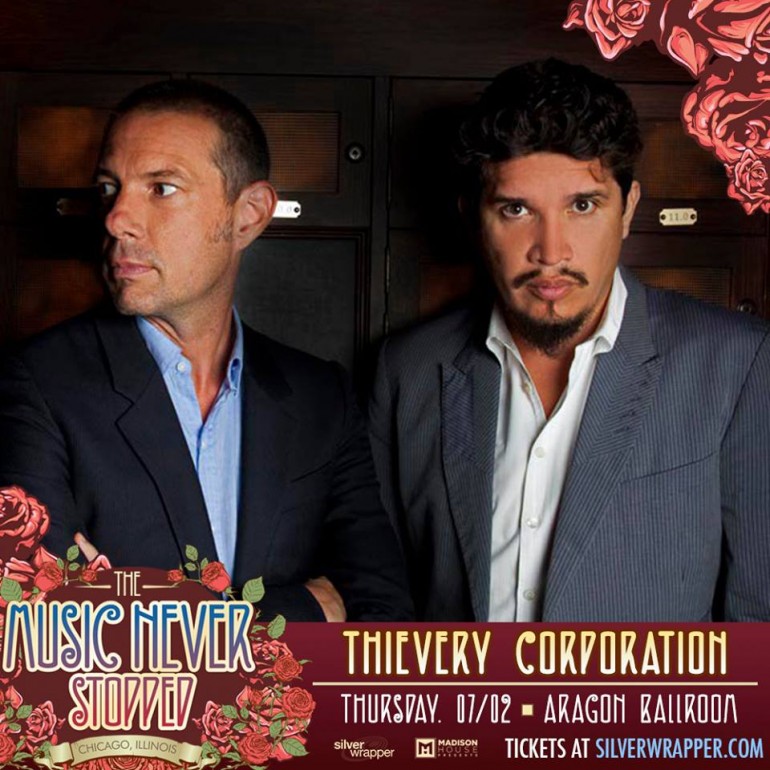 Of all the pre and post GD shows over the extended Holiday weekend, Thievery Corporation's performance, at the 4500 capacity Aragon Ballroom, is likely the biggest.
But that's fitting since Thievery Corporation has such a broad appeal -- blending genres and building bridges between all sorts of music fans.  They're also coming in hot after a recent headlining spot at Red Rocks Amphitheater in Colorado.   To sweeten the pot, there is a plan to make this a truly special show.
We're honored to be returning to the Windy City's fabled Aragon Entertainment Center where we'll play 2 unique sets of music. Fans can look forward to two Thievery Corporation Live sets; one with songs from our deep catalogue of original tunes and another incorporating full Grateful Dead numbers and innovative inclusion of sounds from the Dead into some of our adapted classics. Look for many very special guests to join on stage that night and be prepared for a musical experience unlike anything the band has ever undertaken. It's exciting to contribute to what will be a superb, magical and legendary set of days on one of America's most beautiful cities at the best time of year. Congratulations to the entire GD organization on this amazing milestone! May the music never end!!
Beats Antique is also on the bill.  If you'd like to shot to see this show for free, we're giving away a pair courtesy of SilverWrapper.  Entering is simple, but if you want to increase your odds… follow the directions carefully.
1. Send us an email with the subject "Thievery" to info @ tomorrowsverse.com — in the body tell us your full name and the Dead tune that you'd most like to hear mixed into their set.
That's it. You're entered. We'll notify the winner on July 1st. But if you want a few extra entries, let's get social…
2. Find the link to this page (or our main contest page) in our Facebook timeline. LIKE it, and tag the friend you'd like to take in the comments — that'll give you a boost. Be sure to LIKE The Barn on Facebook for it to count!
3. Find our tweet about this page in our Twitter timeline. RETWEET it and that will give you one more boost. Be sure to FOLLOW @thebarnpresents on Twitter.
Can't decide what to see, or just want to cover your bases? Check out some of our other Dead50 Weekend Giveaways.