Preview & Ticket Giveaway | Grateful Zappa Weekend @ Abbey Pub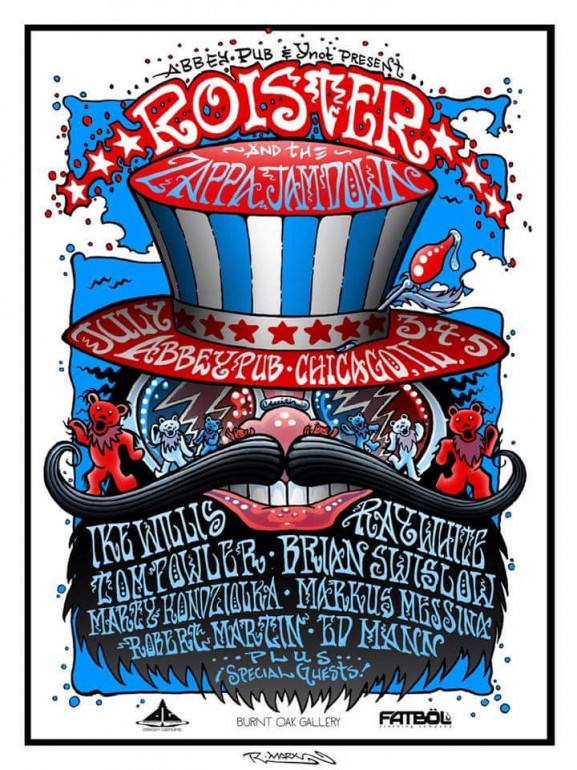 Stop me if you've heard this one.
Iconic guitarist and songwriter passes away in the 90's way before his time.  Years later, his old bandmates come together in Chicago for a three night run over the Fourth of July weekend to celebrate the songbook.
That's right, the worlds of Grateful Dead and Frank Zappa have always shared a bit of the fan dedication, rich history and a whole lot of weird.  Some of FZ's most accomplished musical foils will gather together to play three club shows at the intimate Abbey Pub.
Roister is a band that typically features Zappa alumni Ray White and Tom Fowler, but they are adding Ed Mann, Ike Willis and Robert Martin to the lineup for these special shows.
More special guests are promised each night, but the Sunday show will definitely feature the Large and Local horns with Christoper Boa, Patrick Flemin of The Heard, Garrick Smith, and Xavier Galdon of Chicago Afrobeat Project and Mark Kondziolka.
There may even be a little Dead this weekend, too.  Check out the band performing "Wharf Rat" from Kalamazoo last year below.
We're giving away tickets for each of these shows and entering is simple, but if you want to increase your odds… follow the directions carefully.
1. Send us an email with the subject "Grateful Zappa" to info @ tomorrowsverse.com — in the body tell us your full name, which of these three shows (any or all is okay) you'd like to be entered for and a Grateful Zappa request.
That's it. You're entered. We'll notify the winner on July 1st. But if you want a few extra entries, let's get social…
2. Find the link to this page (or our main contest page) in our Facebook timeline. LIKE it, and tag the friend you'd like to bring along with you in the comments — that'll give you a boost. Be sure to LIKE The Barn on Facebook for it to count!
3. Find our tweet about this page in our Twitter timeline. RETWEET and that will give you one more boost. Be sure to FOLLOW @thebarnpresents on Twitter.
Can't decide what to see, or just want to cover your bases? Check out some of our other Dead50 Weekend Giveaways.