Preview & Ticket Giveaway | David Grisman Sextet @ City Winery 3/20/16
Raise your hand if this photo makes you happy...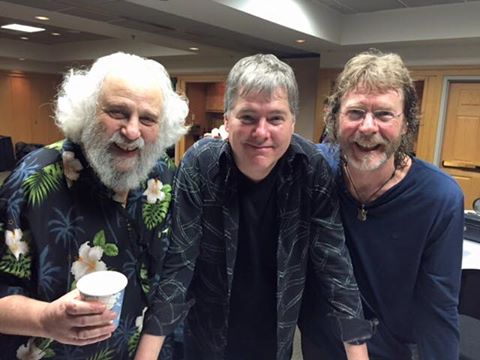 It popped up in my social media feed the other day, and made me realize that these three gentlemen probably did more to open my ears to bluegrass and acoustic music than any others.  (Honestly, I might throw Jerry Douglas and Tony Rice in there, too).
Luckily for Chicagoans, all three will be passing through in the coming months.  Bela and the reunited Flecktones at Thalia Hall on June 12th.  Sam Bush will return to City Winery on June 9th.
But first up is THE DAWG, who brings the David Grisman Sextet to City Winery on March 20th for two shows (at 5pm and 8pm). Although keep your eyes out, we may have another contest for Bush tickets, later.
We're happy to be giving away some free tickets to our readers.
Entering our contest is simple.
1. Send us an email with the subject "DAWG" to info @ tomorrowsverse.com — in the body tell us your full name, the name of a friend you'd like to take and preference for early show, late show, or either.
That's it. You're entered. We'll notify the winner on Friday before the show.  But if you want a few extra entries, let's get social…
2. Find the link to this page in our Facebook timeline. LIKE it, and tag the friend you'd like to take in the comments — that'll give you a boost. Be sure to LIKE The Barn on Facebook for it to count!
3. Find our tweet about this page in our Twitter timeline. RETWEET it and that will give you one more boost. Be sure to FOLLOW @thebarnpresents on Twitter.