Preview & Ticket Giveaway | Brunch with Steve Kimock & Jerry Joseph @ City Winery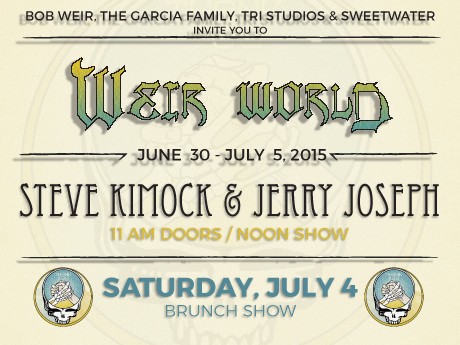 Steve Kimock and Jerry Joseph have a had a long standing musical relationship.
But each has carved out a brilliant original career, while also cultivating rock solid friendships with jamband icons.  Members of the Grateful Dead have relied on Kimock to provide lead guitar roles time and again, while Widespread Panic calls on Joseph for material, collaboration and frequent sit-ins.
When they join forces for a pair of shows -- July 3rd and 4th -- during the daytime at Chicago's City Winery, it's no wonder that these shows have already sold out... but there's still a way in (at least for the July 3rd show).
We're giving away tickets and entering is simple, but if you want to increase your odds… follow the directions carefully.
1. Send us an email with the subject "Kimock" to info @ tomorrowsverse.com — in the body tell us your full name your favorite of many Kimock collaborations.
That's it. You're entered. We'll notify the winner on July 1st. But if you want a few extra entries, let's get social…
2. Find the link to this page (or our main contest page) in our Facebook timeline. LIKE it, and tag the friend you'd like to take in the comments — that'll give you a boost. Be sure to LIKE The Barn on Facebook for it to count!
3. Find our tweet about this page in our Twitter timeline. RETWEET it and that will give you one more boost. Be sure to FOLLOW @thebarnpresents on Twitter.
Can't decide what to see, or just want to cover your bases? Check out some of our other Dead50 Weekend Giveaways.