Preview: Full Court Press 4 @ Abbey Pub 10/5/12 + Pics, Video, Setlist & Lineup from FCP3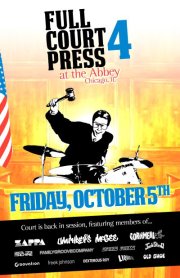 The fourth edition of the Abbey Pub Full Court Press Jam series is back next week (October 5th to be exact, click HERE for a chance to win tickets) and with it comes all the great things we love about the previous all star jam sessions.
a full complement of talent from the top bands in Chicago (Umphrey's McGee, Cornmeal, Digital Tape Machine, Family Groove Company, Spare Parts, Dexterous Roy, Jack Straw, Old Shoe, Freek Johnson, Liquid Soul, Groovatron) -- SEE FULL LINEUP HERE
a special appearance by the legendary Ray White
multiple lineups that take different forms and shapes throughout the night
But there is one thing that's different about the October version: this is the first edition that does not take place on a "school night".  While all previous FCPs have been on Thursday nights, this time they're storming the weekend so fans with Friday morning obligations can feel free to let their freak flags fly til the very end.
Of course, Thursdays haven't prevented previous versions from going over the top.  The last show's highlights included a no-holds barred take on Stevie Wonder's "Superstition", a liquid version of Zep's "No Quarter", and Ray taking the lead on a show stopping "City Of Tiny Lights".  Read on for video, details and a sweet a FCP3 photoset courtesy of Mike Kaiz Photojournalism.
Purchase tickets here, and visit The Barn's contest page for a chance at winning a pair, too.
Full Court Press 3 Setlist and Band Lineups (incomplete...corrections and clarifications welcome in the comments)
Band 1: Nick Ferrer (g), Tony McCullough (sax) of Groovatron

Unknown Funk Tune
Making Flippy Floppy (Talking Heads)
Another Funk Tune (Herbie?  Sly?)
Superstition (Stevie Wonder)
Band 2: Marcus Rezak (g) of The Hue, Digital Tape Machine, Dan Huber (b), Joe Day (k) of Old Shoe], Adam Catron (d), Seth Catron (g) of Twin Cats

No Quarter (Led Zeppelin)>
Frankenstein (Edgar Winter)>
Jam (Godzilla teases?)
Unchained (Van Halen)
Band 3: Kris Myers of Umphrey's McGee, Ray White of Frank Zappa, Jesse Clayton of MathGames, Bryan Doherty of Digital Tape Machine, Nicholas Gerlach of Cosby Sweater, Twin Cats
Illinois Enema Bandit
More Trouble Every Day
Let Me Love You (Buddy Guy)
Jealous Guy (John Lennon)
City of Tiny Lights
Band 4: Marcus Rezak of Digital Tape Machine, My Boy Elroy (dj), Bill Romer (d), Buddy Pearson (g) both of Freek Johnson
[gallery link="file" columns="2" orderby="ID"]