Preview: Cornmeal's Holiday Ramble - Martyrs 12/27/12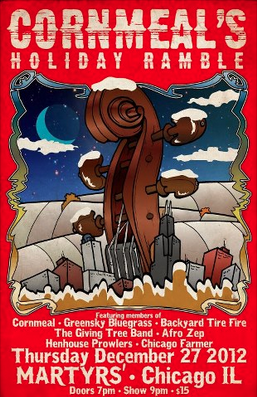 Ive already stuck this in the calendar, but I think an event of this caliber warrants a front page post, too.  So many members of The Barn's favorite groups are coming together on this evening at one of our favorite venues.  I'm guessing there's a deliberate use of the term Ramble here, as both the late Levon Helm and the very much living Phil Lesh have used it describe familial jam sessions >with a roster of outstanding musicians.  Now Chicago gets its own version of the ramble (the city is represented prominently on the show poster), and this one is holiday themed -- seems like the perfect stopover between Christmas and New Year's.
Cornmeal grabs the headline and will likely play hosts, but Greensky Bluegrass, Backyard Tire Fire, The Giving Tree Band, Afro Zep, Henhouse Prowlers and Chicago Farmer all will be represented as well. Seems like bluegrass is the main course, but I wouldn't be surprised to see a ton of variety and a long night of excellent tunes.
Tickets are on sale now ($15) and can be purchased through Martyr's website.
Stay tuned, we'll update this post with more information as it becomes available.