Pins & Needles: An Interview With Edward David Anderson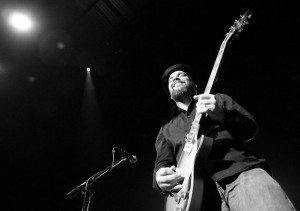 Edward Anderson has stayed busy since the dissolution of Backyard Tire Fire in 2011.
Aside from readying his debut solo full-length, Lies & Wishes, Anderson opened the Bloomington Rock School, participated in songwriting sessions in Nashville, reunited Backyard Tire Fire for a single charity gig and released multiple EPs, writing constantly the entire time.
Yet Lies & Wishes focuses on more personal, emotional events that occurred during the same four year period, the passing of his mother and his wife's mother, both shortly after ending Backyard Tire Fire's decade-long run.
"When you go through something like that, your writing, it's coming from a very, very pure place," Anderson said. "I was able to get to a place as a writer and an artist and I think that's the result of tremendous emotion that I've never felt before in my life where you don't know what else to do except to put it into something."
The new record, produced by Los Lobos' Steve Berlin, shows a significantly more personal side of Anderson than Backyard Tire Fire ever did. Acoustic, folk-based songs dominate the album, emphasizing songwriting and melody more than guitar riffs and solo sections.
"I like the harmonies. I like the melodies a lot on these tunes. They're some of the strongest melodies I've ever written," he said. "I think that's kind of my bag… These days I'm much more concerned with how I'm singing and what the melody and the message is more than stretching out and showing my chops on guitar."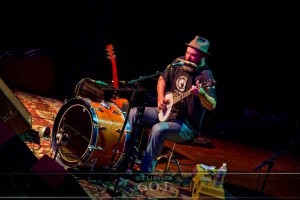 Though Anderson turned 42 last week, Lies & Wishes comes off as a record of maturation, the artist's writing process essentially providing therapy toward recent events.
Album opener "Lies & Wishes" illustrates this emotional intensity best.
"I think about the title track. I remember writing it and the first time I wrote that melodic finger picking thing I just started to weep. It was in my basement in the middle of my mom's hospice stint. It was the last tune that I wrote that she ever heard," Anderson said.
Berlin suggested using the demo itself on the record, feeling its emotions couldn't possibly be recreated in the studio. In the end, they only added drums in the studio, all other tracks remaining from "that morning that I was crying in my basement," according to Anderson.
"There's moments like that that are very palpable and honest on this record," Anderson explained.
But the title track is hardly the only example of such emotionally candid songwriting.
"The tune 'Pins & Needles', that's written about my wife's mom and her struggle with dementia," Anderson said. "I wrote that from my wife's mom's perspective. That's kind of from the perspective of someone who's losing their mind. I didn't really know what else to do with what I was witnessing. It's brutal. She had this almost, like, troubled look on her face, like concern, like she was on pins and needles."
The song's lyrics put this raw emotion on the line from the get-go:
Yesterday felt like a dream to me / One that I've already had
Well days seem to slip away easily / They're here then they're gone just like that
Sing to me softly and sweetly / Sing to me something I know
A melody that brings back a memory/ A glimpse of that used to be showed
The record's bare, acoustic feel matches the honesty of its lyrics while separating itself distinctly from Backyard Tire Fire. Working with Steve Berlin, who also produced Tire Fire's last record Good To Be, was key in making this happen.
"He's a fun person to work with and he's got a lot of good ideas and he just brings the best out of people," Anderson said. Since Backyard Tire Fire opened for Los Lobos in Bloomington, a "legitimate friendship" spawned between the two.
"I can get advice from him. He's almost like a father figure in the business for me," he said.
Indeed, throughout our interview, Anderson remained humble and open about this phase of his life, always stressing Berlin's importance. "It's cool, man, because you know Steve didn't have to work with me on this record. He's working with me on this record because he likes my tunes. I'm not in a band anymore that's big. I'm basically starting a solo career at this point in my life, like halfway through. It's kind of a new chapter to me."
Though Anderson and Berlin recorded most of the record themselves in Columbia, Missouri, they enlisted the help of some local musicians, including the studio's engineer, to sit in on drums, bass and stranger elements like the musical saw. In fact, the studio owner is playing bass for Anderson's four full-band record release shows, and the director of curriculum of a local music school will be on keyboards.
Outside of these full-band performances, which include a Chicago date at Martyr's on May 3, Anderson hopes to tour the album alone.
"I'm trying to do a lot of travelling, just my wife and I.  No band and no van and no van maintenance. No trying to keep everybody fed, keep everybody happy, keep everybody out of trouble. No multiple hotel rooms, no 'where's so-and-so at the end of the night,'" he said. "I'm over that to a degree."
After twenty years of professional touring, Lies & Wishes stands as a reflection on Edward Anderson's past, from losing loved ones to giving up the band, marking the songwriter's most direct effort to date.
Lies & Wishes will be released on April 29 and can be preordered here.
- Alex Wood