Phish @ UIC Pavillion: A Chicago Visitors Guide -- Pre-show and After-show Fun
Getting There
Your easiest and safest route is public transportation.  The Blue Line (Racine Stop) is about a half a block from the venue's front door. The main buses are the 60, 7, 120 and the 8 that will get you in the general area of the UIC Pavilion.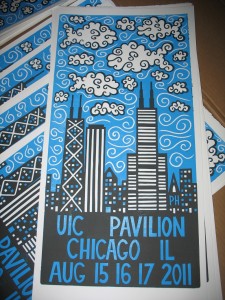 There is paid parking in a covered lot adjacent to the Pavilion and an open lot across the street.  These tend to fill up fast.  Street parking is typically either metered (pay a box and print a ticket for your dash) or zoned for residential permit only.  You may be able to find spots that are neither if you follow Racine across 290 and walk to the show.
South Loop bar Reggie's offers a bus to the shows for a park-and-ride option.  Spaces do fill up, so contact them for availability.
For more information, visit Directions & Parking.
In The Show
For the old-timers like myself who have seen Phish at the UIC Pavillion in '94 and '98, you will notice something different this time around.  The venue now serves alcohol!  While drinkers may rejoice, this addition doesn't comes without its drawbacks.  My advice here is based on the (not sold-out) Furthur shows in Fall of 2010.
The facility was not setup for drink service, so makeshift stands are setup in the cramped hallways, reducing traffic flow to a crawl during setbreak.  The already inadequate restroom facilities become even more taxed with much more liquids being consumed (ancillary port-o-lets are setup near exits to accommodate overflow).  Keep this in mind.  Your best bet for drinks / bathroom is during the show.  Pick a groaner, and make a break for it.
Other than that, this is a small university basketball stadium with a capacity under 10,000.  The balcony is small and the floor is relatively tiny.  For Chicagoans, this should be a nice throwback, since last indoor shows in the area were at the bigger Allstate Arena and recent nearby outdoor shows have been at gargantuan Toyota Park and Alpine Valley.
What To Eat
One of the great pleasures of visiting Chicago is the food.  I certainly can't provide you with a complete guide to the city's culinary -- that is up to your own tastes and budget and there are plenty of resources to help you.  However, I can give you a few places to check out within a few short blocks of the venue.
The food at Tufano's is fairly standard Italian fare, but it is right across the parking lot from UIC and is a great spot for groups.  For more interesting dining, head to Chicago's GreekTown along Halstead for authentic Greek food and a Chicago specialty "flaming cheese" (don't ask, just order) -- Greek Islands is a best bet.
For faster, grab-and-go type fare, try Chicago's signature sandwich, the Italian Beef, at Carm's Beef.  Or, for some good Italian subs to-go try Fontano's, which also doubles as a convenience store for other sundry items you may need.  Both are walking distance from the venue
Pre-show Fun
On Tuesday, The Mock Show, a Phish themed poster art exhibit featuring 20 artists onsite is featured at nearby Gallery 400 (400 S Peoria St).  Admission is free and its only 522 feet from the Pavillion!
Chicago Bluegrass superstars Sexfist (the alter ego of nationally known act Henhouse Prowlers) promise a free show in the UIC Pavillion parking lot on Tuesday as well. 

Post-show Fun
Monday, Sexfist performs an after show ("SexPHISH") at ACE Bar on Fullerton.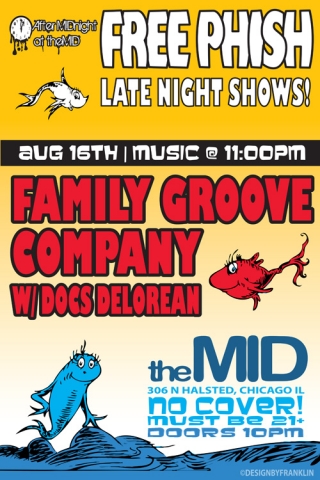 Longtime Chicago promoters Silverwrapper are offering three FREE post-Phish parties at the swanky club The Mid, featuring acts such as Michael Menert, Zoogma, Family Groove Company and The Coop.  Check their site for more details.
Tuesday is just another Tipsy Tuesday for Mr. Blotto at Reggie's, their longtime Tuesday night residency.  They will probably take the stage just before Phish lets out, but always offer a cool mix of orginals and covers.
If you like a little Dead after your Phish, Paradise Waits performs Abbey Pub on the Northwest Side -- this event is also free with a ticket stub.