Notes From The Jazz Underground Wings It
This installment of Notes From The Jazz Underground features the playlist based on the October 4th show.  Without an underlying theme, it still manages to feel pretty cohesive while covering a lot of ground.  Highlights from the first half include:
One of the hottest latin jazz bands working right now, led by Conrad Herwig
A great track from the new Elvis Costello & The Roots collaboration
New music from the incomparable Fareed Haque
Fugazi (!?!?!) -- yeah, what the heck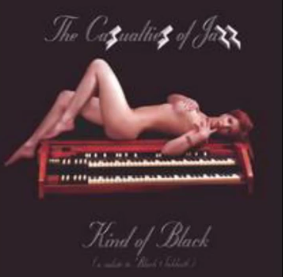 The second half had a little firmer game plan - old fusion from Return To Forever, new fusion from Jesse Fischer & Soul Cycle, and a little funkiness from Sco.  Of course, it also features some NFTJU specialty: down and dirty jazz organ versions of some rock classics - Come Together (fairly common in the jazz community) and Fairies Wear Boots (never heard in the jazz community) to go with the Sly Stone cover in the first half.  Sadly, neither tune is available on Spotify, but we found a YouTube of "Iron Man" from Casualties of Jazz's
Kind of Black
album which is embedded below.  The show closes by getting solidly funky. Big recommendation for Brownout, a band sure to get many more spins around here.
Notes From The Jazz Underground runs Friday nights on WDCB 90.9 FM.
Complete Playlist
| | | |
| --- | --- | --- |
| Song | Artist | Album |
| Adam's Apple | Wayne Shorter | Adam's Apple |
| Petits Machins | Conrad Herwig | Another Kind of Blue |
| Clayland | Ben Wendel | Frame |
| Walk Us Uptown | Elvis Costello & The Roots | Wise Up Ghost |
| In Pursuit of the 27th Man | Horace Silver | In Pursuit of the 27th Man |
| Thank You For Talkin' To Me Africa | Steven Bernstein | MTO Plays Sly |
| Giant Steps | Fareed Haque | Out of Nowhere |
| Combination Lock | Fugazi | Red Medicine |
| 80s | Roberto Fonseca | Yo |
| Song to the Pharoah Kings | Return to Forever | Where Have I Known You Before |
| Midnight Dancer | Jesse Fischer & Soul Cycle | Retro Future |
| Curtis Knew | John Scofield | Uberjam Deux |
| Come Together | Dick Weller | Tunes Remembered |
| Fairies Wear Boots | The Casualties of Jazz | Kind of Black |
| Yo 11 | Ian Torres Big Band | January |
| Ayer Y Hoy | Brownout | Aguilas Y Cobras |
| Whatever It Is, I Can't Stop | Jamiroquai | Emergency on Planet Earth |