Notes From The Jazz Underground Goes All Over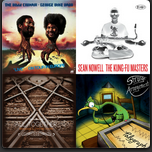 Volume Three of The Barn's 
Notes From The Jazz Underground
feature showcases the show broadcast on August 16th.  This one, by Paul's admission, kind of goes all over the place.  This week's goodies include:
Sean Nowell, a fairly straight ahead sex player covering Hendrix
A little preview of last Saturday's Umphrey's McGee / STS9 show at Northerly Island (mea culpa... we couldn't find a live Umphrey's version of Senor Mouse, so we substituted the Return To Forever version in our playlist)
The triumvirate of 80s jazz guitarists: Scofield (plays OTSoFM in September), Metheny & Frissell (with Ginger Baker's band!), who all have new music out
A tribute to the late, great George Duke, but with Billy Cobham and on his own from a just released CD, Dream Weaver
A tip of the hat to the recently un-hiatused Strange Arrangement (back at Martyrs in October!), members of which joined Umphrey's post show at the House Of Blues in Digital Tape Machine
And there's plenty more including a new discovery: Dave Robbins
There's a bunch here, so we hope you enjoy!
Notes From The Jazz Underground runs Friday nights on WDCB 90.9 FM.  Going forward, we'll try to have these playlists up the Monday after it airs (and so far, we suck at that).
Complete Playlist:
| | | |
| --- | --- | --- |
| Hip Pockets | Billy Cobham/George Duke Band | Live on Tour in Europe |
| Crosstown Traffic | Sean Nowell | The Kung Fu Masters |
| Zap! | Dave Robbins Electric Band | Zap! |
| All Together | Benjamin & Stephen Lynerd | All Together |
| Siete | Strange Arrangement | Polygraph |
| Legacy | Chick Corea | The Vigil |
| Watermelon Man | Herbie Hancock | Headhunters |
| Baby Drama Mama | Garage A Trois | Always Be Happy, But Stay Evil |
| Boo Boo's Birthday | Thelonious Monk | Underground |
| Ashtray | George Duke | Dream Weaver |
| Snake Dance | John Scofield | Uberjam II |
| Mastema | Pat Metheny | TAP: Book of Angels Volume 20 |
| Straight No Chaser | Ginger Baker Trio | Going Back Home |
| Senor Mouse | Umphrey's McGee | 2/11/2010 |
| Inspire Strikes Back | Sound Tribe Sector 9 | Offered Schematics Suggesting Peace |
| New Amsterdam | Kenny Werner | Lawn Chair Society |
| Jean Pierre | Miles Davis | We Want Miles |