Notes From The Jazz Underground Gets Horny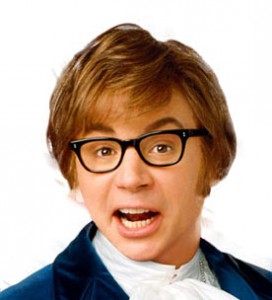 This installment of
Notes From The Jazz Underground
features the playlist from Friday, September 20th. Paul's theme for the evening was (in your best Austin Powers accent) "Do I Make You Horny, Baby?"
What does that mean? All brass bands, big bands and multiple horn led ensembles.  This is definitely a playlist that gets an "A" for cohesiveness and repeatability.  It turned out to be one of the station's most popular broadcasts (if measured by web traffic, emails and phone calls).
I never shy away from showcasing the music of New Orleans and the Crescent City is well represented by Dirty Dozen, Hot 8 Brass Band, The Soul Rebels, and Rebirth Brass Band (though I did have to substitute Paul's selection with my favorite Rebirth tune "I Feel Like Funkin' It Up").  We've even got NOLA-style from Madison, Wisconsin's Youngblood Brass Band and Boston's Revolutionary Snake Ensemble.
Trey Anastasio, Earth Wind and Fire, Fred Wesley and Parliament make a rock/funk noise.  Beats and Pieces (check the video, they're not on Spotify) and Travis Sullivan's Bjorkestra (a New York big band that does nothing but Bjork tunes... seriously) repped for the big band scene.  Chaka Khan and Sex Mob made appearances due to stream of consciousness -- Youngblood covers Chaka on their latest, so Paul selected  Chaka doing a Prince tune, which led to Sex Mob also playing some Prince.
One more note.  We've long been looking for a way to showcase Rodrigo y Gabriela on the site.  Thanks to Paul for including an amazing track featuring the horns of C.U.B.A. on this playlist.
Notes From The Jazz Underground runs Friday nights on WDCB 90.9 FM.
Complete Playlist:
| | | |
| --- | --- | --- |
| Song | Artist | Album |
| Brooklyn | Youngblood Brass Band | Live. Places. |
| I Feel For You | Chaka Khan | I Feel For You |
| Sign O' The Times | Sex Mob | Din of Inequity |
| Santo Domingo | Rodrigo Y Gabriela and C.U.B.A. | Area 52 |
| Mozambique | Trey Anastasio | Plasma |
| Sweet Dreams | The Soul Rebels | Unlock Your Mind |
| Keep Your Body Shaking | Rebirth Brass Band | Take It To the Streets |
| Use Your Brain | Dirty Dozen Brass Band | Open Up (Whatcha Gonna Do With The Rest of Your Life?) |
| E la E | Youngblood Brass Band | Pax Volumi |
| Soul Makossa | Fania All-Stars | Latin-Soul-Funk |
| War Time | Hot 8 Brass Band | The Life and Times of the Hot 8 Brass Band |
| Doin' It To Death | Fred Wesley & the JB's | Soul Classics Volume 8 |
| Unfunky UFO | Parliament | Mothership Connection |
| Soul Power | Revolutionary Snake Ensemble | Year of the Snake |
| Bake | Beats & Pieces | Big Ideas |
| New World Symphony | Earth Wind and Fire | Gratitude |
| Enjoy | Travis Sullivan's Bjorkestra | Enjoy |