New Orleans Super Jam "Busted On Bourbon St" Added To GD50 Chicago Pre-Parties
We love us a little NOLA around here, so this lineup of Crescent City Superstars descending on Chicago definitely raises an eyebrow.
The only issue is how we'd be able to squeeze it all in because -- just like every other eye-popping lineup heading through town these days -- it's going down on July Fourth (Dead50) weekend.
Specifically, this event will be held July 2nd at the storied north side club, Metro.  It will feature Ivan Neville, Papa Mail, Big Chief Monk Boudreaux, Tony Hall, Willie Green and Marc "Buddha" Baisan.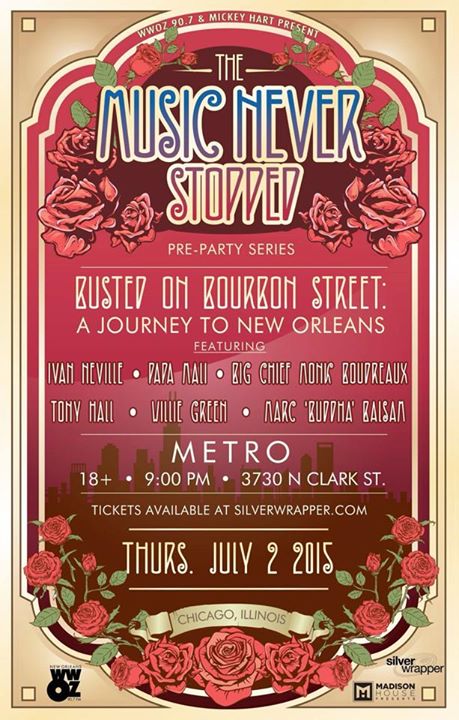 Billed as Busted On Bourbon Street: A Journey To New Orleans, there's no word if there's any obvious connection to the Grateful Dead, other than the location, timing on the eve before the final run, and the reference to the infamous "Truckin'" lyric.  My guess is that there may be a smattering of NOLA-inflected Dead tunes amongst a set of standards and material by each of the participants.
That said, Papa Mali spent some time as bandmates with Bill Kreutzman in 7 Walkers.  Longtime Neville Brothers drummer Willie Green sat in with the Dead in Birmingham in the Spring of '95.  Hell, even bassist Tony Hall used to lay down the low end for Trey Anastasio's Band.  No shortage of Dead or Phish connections here.
One more thing to note... the show is being "presented by" famed New Orleans radio station WWOZ and Mickey Hart.  Hmmm.
Tickets are on sale via silverwrapper.com.
Check out the Dead featuring Willie Green from Birmingham 95.  They are delightful on the late-period cover rarity "Matilda".