New Music From Dawes, Jason Isbell, Who Headline Two Brothers Summer Festival 6/26 & 27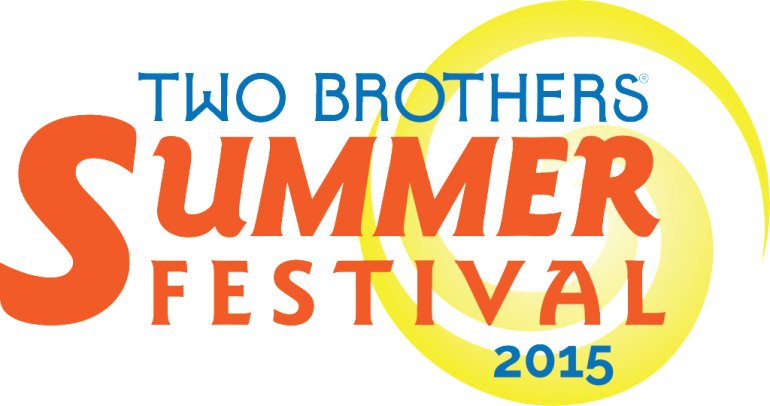 Two Brothers Brewery is raising the stakes once again for its annual summer music festival with a pair of A+ headliners and some rock solid support on Saturday.
Top-lining this year's event will be Jason Isbell (Saturday, June 27), one of the finest songwriters presently working, who will bring his band and it's Southern Rock / Country sound with him, and Dawes (Friday, June 26), the throwback LA rockers who will be touring in support of a new record, All Your Favorite Bands.
Each artist dropped some interesting tracks recently.  Isbell surprised fans with the release of "24 Frames" from the forthcoming Something More Than Free.  Dawes dropped by Letterman and offered a cover of Warren Zevon's "Desperado's Under the Eaves" (after a touching story from Dave) as a web-exclusive and a run-through of their new single, "Things Happen". They also happened to bring a long a young guitarist by the name of Duane Betts.
We're also excited to see local favorites Cornmeal and Under the Willow as direct support for Isbell.  Check out the new tunes and more information about this festival below.
"Desperadoes Under The Eaves"
"Things Happen"... though if you want to call your song "Shit Happens" just come right out and do it.
"24 Frames"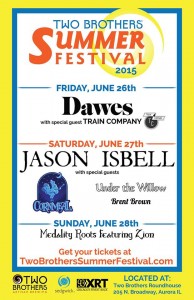 This festival also tops the list for value and access. $5 gets you General Admission. $55 is VIP preferred access included guaranteed seating, and VIP bar, bathrooms and entrance.
Metra's BSNF line Aurora stop is only steps away from the festival entrance. Festival ends at 11 in time to catch the last train back east.
And let's not forget, Two Brothers is a brewery (and a good one at that). They will be releasing their Hop Centric Double IPA in 12oz bottles and have a number of archive beers available in 22oz bottles at a beer-to-go station.
Gates open on Friday at 5:00
6:30 PM TRAIN COMPANY
8:30 PM DAWES
Gates open on Saturday at 3:00pm
4:00 PM BRENT BROWN
5:00 PM UNDER THE WILLOW
6:15 PM CORNMEAL
8:30 PM JASON ISBELL
Gates open Sunday at 12:00
A family friendly reggae act is scheduled to perform.