McCourys Will Travel Into Town With New Guitarist, Salmon Friends [Win Tickets]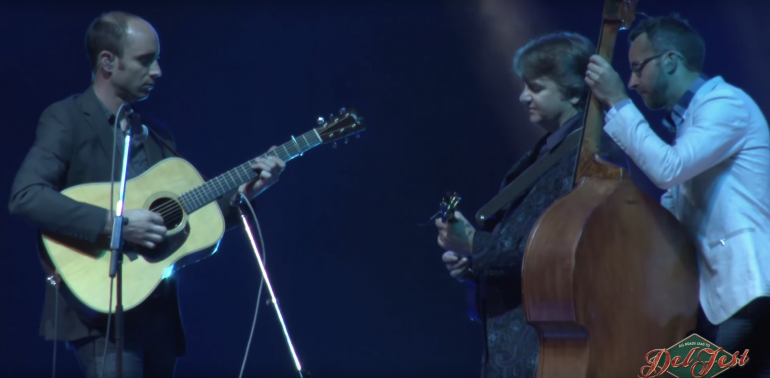 On Sunday, November 15th, The Travelin' McCourys, who have made Chicago's City Winery a bit of a home-away-from-home, will return to the quaint West Loop spot with Drew Emmitt and Andy Thorn of Leftover Salmon as special guests.... but they will also have a new permanent member.
Read closely for a chance to win a pair of tickets to one of two shows that night!
Guitarist Cody Kilby has been a friend and associate of the McCoury boys since their debut performance at the Wintergrass festival, and has made a career backing artists as diverse as Ricky Skaggs and Beck.
"I guess we had our 'a-ha' moment at DelFest this year," says Ron McCoury.  "We were on stage Saturday night and it was like a light bulb went on — with Cody, we really have the perfect combination.  Don't get me wrong, we enjoy featuring guests and still plan to collaborate at times, but from now on, Cody will be involved in all of those shows. He is a great player, and fits perfectly with what we do - straddling the fence between traditional and progressive.  No matter what we throw at him, he can handle it."
Among the many tunes played during that a-ha set, a cover of Jerry Garcia & Robert Hunter's "Loser".  Check it out:
That's familiar territory for LoS' Emmitt and Thorn, who join Kilby and the McCourys for a 5pm and 8pm show this Sunday.
We want to send some of our readers to these gigs for free.  Send us an email to info @ tomorrowsverse.com with the subject line "Travelin'", your full name, which show (5pm, 8pm, or either) and the tune you'd like to see these bluegrass and jamgrass legends collaborate on.
That's it… you're entered.  But if you'd like to increase your chances, let's get social.
Find a link to this page our our Facebook page, in the comments tag the friend you'd like to bring and let us know your song request.  That's worth an extra entry.
Or… find a tweet that links to this post in our Twitter feed.  Retweet or quote it and that's a potential third entry.
Be sure to LIKE The Barn on Facebook or FOLLOW us on Twitter for those entries to count.
We'll notify the winner by email on November 14th.  Here are the band's complete fall tour dates.
11/11 - The Englert Theatre - Iowa City, IA

11/12 - Majestic Madison - Madison, WI

11/13 - Old Rock House - St. Louis, MO

11/14 - The Blue Note - Columbia, MO

11/15 - City Winery - Chicago, IL

11/18 - The Grey Eagle - Asheville, NC

11/19 - The Blind Tiger - Greensboro, NC

11/20 - The Charleston Pour House - Charleston, SC

11/21 - Cat's Cradle - Carrboro, NC