Joe Marcinek Embarks On Little Tour With Big Talent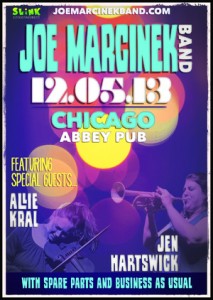 Coverage around these parts has been so dominated by male musicians, at times we've gone out of our way to showcase women led bands.  It's even rarer when you're talking about the bands that stretch out and improvise.
Thanks to guitarist / bandleader Joe Marcinek for helping balance things out, as he's assembled an all-star lineup that's a full 50% female… and doesn't skimp on talent and interesting sonic mix.  Here's who will be joining him on this short tour through the midwest.
Jennifer Hartswick - trumpet/vocals (Trey Anastasio Band, Van Ghost)
Allie Kral - violin/vocals (former Cornmeal)
Janis Wallin - Bass (Family Groove Company)
Jesse Clayton - keys
Pete Koopmans - drums
He'll play tonight, December 5th at the Abbey Pub in Chicago with Spare Parts and Business As Usual, Friday December 6th at Papa Petes in Kalamazo, Mi with Pleasant Drive and Jaik Willis .  The brief tour wraps Saturday December 7th at the Mousetrap Bar-Grill in Indianapolis, IN with Funky Junk and Jaik Willis.
Check out some of the videos below for Joe in action with Allie from Shoe Fest and Steve Molitz at the Cubby Bear earlier this year.