Jamming With Pink: The Barn's Floyd Covers Mix Tape
[fblike style="standard" showfaces="false" width="450" verb="recommend" font="arial"]There are certain musical truths in this world.  One of them (as this Venn Diagram explains) is that everybody loves Pink Floyd.  Their fans are rabid and diverse and they've  inspired musicians across a large swath of genres and backgrounds.  And so, when I set out to put together another Barn Presents Mix Tape featuring jambands playing the music of Pink Floyd, I uncovered more than just jambands and turned up more material than I felt warranted a" conventional" Mix Tape.
So why not shake things up a bit and take on a new challenge?  Could I, using only a single cover by each band, reconstruct three complete classic Floyd albums in their entirety with a different track by each artist?  I sure could.  And I also had enough leftover material for a 17 track Best Of The Rest collection.
My hope is that this collection turns you on to bands or styles that you may not have come across otherwise and demonstrate how the music of Pink Floyd can transcend and unify.
Dark Side Of The Moon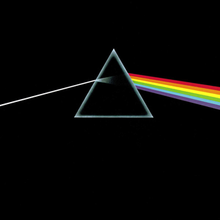 Gov't Mule - "Speak To Me" > "Breathe" > "On The Run"  The one exception to my rule of a single track per artist, it made sense to keep these three Mule tracks together, part of one of the most iconic album openings in music history.  Warren, Matt & company offered a full set of Floyd on Halloween 2008 and deployed some cool sounding effects and to make these tunes come to life.
Greensky Bluegrass - "Time" > "Breathe Reprise" These days, Greensky Bluegrass is heading to the top of my playlists with a bullet.  This track captures the spirit of what gets me so excited about their rock/bluegrass hybrid.
Phish - "Great Gig In The Sky" When Phish pranked their fans on November 2, 1998 by playing all of Dark Side in their second set, this was the only track wasn't a debut for them.  Here it is in all of it's weird, passionate, vacuum cleaner sucking glory.
moe. - "Money" I featured this track from moe.'s entire album Dark Side cover (Halloween 2000) because Rob Derhak's bass approach is just so well suited to this tune.  I love how the band nails the ending, too.
Club D'Elf - "Us & Them" Tough for me to call out a personal favorite among the dozens of tracks featured in this post, but if pressed, this just may be it.  I just love what Jon Medeski and the rest of this band do with this melody; airy and surreal.  I think Roger Waters would be proud. 3/13/08
Porter Baptiste Stoltz - "Any Colour You Like" The hits keep coming, another jazzy, funky riff on a Floyd classic by this Meters offshoot. It's so cool that this is a part of their repertoire.
Hot Buttered Run String Band - "Brain Damage" I'm a bit envious of west coasters who get some HBRSB on the reg.  This rendition has a bit more of an old-timey bluegrass feel that the rocking hybrid that Greensky offered previously in this collection, but one that is welcome nonetheless. 4/8/04
Furthur - "Jam" > "Eclipse" I had to include the set opening jam from this recent Red Rocks 2011 show (10/1/2011) that resolved its way into "Eclipse".  When Weir, Lesh and crew started playing this tune as a part of Furthur, it was cause for celebration in Deadhead circles.  This version actually wound into an improv that yielded "Scarlet Begonias" so this album compilation lacks the big finish of the real album, but I say it's worth it for this inspired bit of jamming.
[box type="download"]Download Entire Set (.mp3 zip)[/box]
Wish You Were Here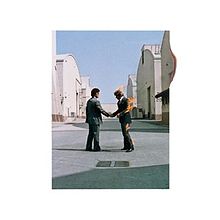 Umphrey's McGee - "Shine On You Crazy Diamond (Part I-V)" At the heart of Umphreys' appeal is the honest-to-goodness continuation of Floyd's prog rock legacy.  Every element of that is present in this track, nailing every nook and cranny of the multi-faceted composition on the  original recording. 7/11/2009.
Ultraviolet Hippopotamus - "Welcome To the Machine" UV Hippo is one of the surprising number of bands to cover entire Pink Floyd albums or dedicate lengthy sets to their music.  This version starts out as ominous as the Floyd version, but erupts into a danceable, almost EDM sounding breakdown, in the middle.  Great work.  1/19/08.
RAQ - "Have A Cigar"  Chris Michetti's searing guitar lines and Todd Stoops' demonstrate the unfulfilled promise of RAQ in becoming dominate players in the jamband world.  The bands on-again/off again status appears to be stuck in off again these days, but that doesn't make this any less enjoyable.  By the way, which one's Pink? 3/13/04.
Widespread Panic - "Wish You Were Here"  Always a fan-favorite in Panic's arsenal, popping up on a setlist occasionally from the earliest days of the band until the present.  This is a version featuring current guitarist and personal hero, Jimmy Herring, meaning it carries with it a Mike Houser memorial subtext.  This one is from 4/27/07 in Alabama, though my personal favorite was from the encore at Jazz Fest in 1999.
U-Melt - "Shine On You Crazy Diamond (Parts VI - IX)" The album closer was one of the more difficult tracks to locate and U-Melt is a band I've never had the pleasure of listening to prior to research on this project.  Based on this track, they can certainly bring it. 6/19/05
[box type="download"]Download Entire Set (.mp3 zip)[/box]
Animals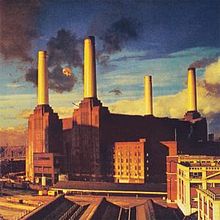 New Monsoon - "Pigs On The Wing Pt. 1"  New Monsoon's concise acoustic take on this album's opener actually sets the tone quite nicely for the other more out-threre jams on this classic album. 3/16/06.
Indobox - "Dogs" The long, spaced out middle section of this tune hits just the right notes.  Indobox deftly shifts from spacey to proggy before spitting out Waters' lyrics with the venom they deserve. 10/26/07.
Mr. Blotto - "Pigs (Three Different Ones)" Let's face it, our friends in Mr. Blotto do covers right.  Whether it's covering entire albums (including yet another Dark Side) as encores at their annual Blottopia festival, or just dropping a pitch perfect rendition of Floyd's Animals centerpiece during this theater show from the fall of 2001, you're gonna hear the choicest cuts at a Blotto show, and they're going to nail 'em.  10/20/2001
Cornmeal - "Sheep" We'll double up on Chicago bands for the heart of this great album.  Allie Kral's fiddle is what really makes this a standout, adding the dissonance, paranoia and tension that this songs drips with.  One of the only bluegrassy bands in this collection to feature the drum kit, the driving rhythm and tasteful fills propelled this pickfest into a crazy jam territory on Halloween 2008.
Flowmotion - "Pigs On The Wing Pt 2" Seattle based Flowmotion bookended a New Year's Eve 2006 performance with the Pigs On The Wing sections.  Sounds like a great way to end a party to me.
[box type="download"]Download Entire Set (.mp3 zip)[/box]
Best Of The Rest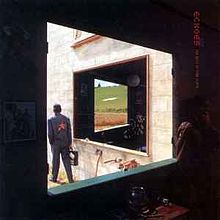 Disco Biscuits - "In The Flesh" The Bisco guys have been unabashed fans of Pink Floyd since the early days.  This is a smokin' show opener from earlier this year, kicking off the "Best Of" collection with the familiar opening organ swells of The Wall and not looking back. 4/17/10.
Zoogma - "Run Like Hell" Zoogma is one of the new breed of jam / electronic hybrid acts that are turning improvisational music circles on their ears.  They certainly let you know they the are willing to go out there in this performance, and even toss in a little "Shakedown Street" quotes to keep things interesting. 2/16/11
Groovatron - "Free Four" Another Chicago based jamband that I'm proud to feature as a part of this collection.  Does anything say early Floyd more than the big chord defines this tune?  They played this ditty at Summer Camp Festival, one of the best showcases for Midwestern talent there is.  I'd say they did out city proud. 5/26/07.
Bruce Hornsby - "Comfortably Numb" Hornsby often squeezes this tune in the middle of his own "Fortunate Son".  His plaintive, honest vocals and majestic piano swells add his signature to this version, but my favorite rendition was a Steve Kimock sit-in from about a decade ago.  Oh, how I wish I could re-locate that recording!
The Decemberists - "Echoes"  By very few yardsticks are The Decemberists considered a jamband, but many of us fans love them just the same.  There is no doubting the epicness of their take on one of Pink Floyd's most sprawling and anthemic songs, giving it an extended workout that David Gilmour would be proud of.  This one comes from the encore of a show at Chicago's Vic Theater in 2007.  Not satisfied with leaving the Chicago crowd with a Floyd cover, they capped the show with an epic of their own, the wistful and winding "Mariner's Revenge". Do check it out.
Perpetual Groove - "Mother" It takes a great rock voice to really make this song shine.  Eddie Vedder killed it with Pearl Jam recently on Late Night.  PGroove's Brock Butler earns some serious stripes by wrenching every bit out of this songs emotional core. 5/25/08.
Particle - "Keep Talking" While researching this post, sifting through multiple renditions of songs from The Wall and Dark Side left me somewhat weary, so it was a pleasant surprise and relief to find Particle tackling this 90's era tune off of The Division Bell as part of a beefy all-Floyd set.  Particle is so well suited for the Floyd style of jamming, you may even end up with a greater appreciation for a somewhat under-acknowledged part of their repertoire. 10/30/10.
Smashing Pumpkins - "Set The Controls For The Heart Of The Sun" Fasten your seatbelts.  Billy Corgan took audiences for a ride in this blissed out early Floyd vehicle, adding his 90's noise rock flourishes to a tune that is so wide open, we just might have to unapologetically lump the Pumpkins in with these other jambands. 10/31/08.
BuzzUniverse - "Astronomy Domine" The genre blending troubadours in Buzz Universe have been barnstorming the East Coast for several years now.  This cut showcases this bands unique maturity and approach.  BU was gracious enough to let us share the version from 2008's Live Vibes at the Donegal Saloon.
The Breakfast - "Young Lust" Commence face melting sequence now. What jambands compilation could be complete without a little of Timmy P.'s guitar heroics? 8/23/07.
Brain Damaged Eggmen - "Happiest Days Of Our Lives" > "Another Brick In The Wall" I made a conscious decision not to include the works of Pink Floyd cover bands in this collection, but how about an occasionally formed half-Beatles / half-Floyd tribute supergroup consisting of members of Disco Biscuits and Umphrey's McGee?  Yeah, okay, we'll let it slide.  Jake Cinniger's guitar lines just sizzle in the transition between these two tunes, I think even surprising most of the band members. 12/16/07.
Marco Benevento - "Fearless" Benevento offered this track as a free download in support of his last release Between The Needles And Nightfall.  This is a studio outtake of of a live staple for Marco's group; it's beautifully recorded and a superb showcase of his keyboard prowess.
Rumpke Mountain Boys - "Hey You"  I first became aware of the Rumpke Mountain Boys when doing research for my Beastie Boys feature and have been a fan ever since.  These guys are straight up pickers.  Don't be fooled by the mellow opening bars, this one morphs into a flat out rager by the closing sequence. 1/14/11.
Cracker - "Interstellar Overdrive" Cracker gives this Syd Barrett penned tune quite a ride, as did David Lowery's previous outfit Camper Van Beethoven.  Other notable covers of this tune are by Hawkwind, The Melvins, moe., Spiral Realms, Pearl Jam, and The Mars Volta. 1/16/11.
Schleigho - "The Trial"  The now defunct (?) funk/jazz/jamband Schleigho went Floyd crazy in their Halloween 1997 show.  With so much great stuff to choose from, I was happy to find this unique version of The Wall's climax as a standout track to feature.
Motion For Alliance - "One Of These Days" This Boulder group claims to "vibrate the heart, spirit, and mind with their improvisational journeys through all genres of electronic music" on their facebook page.  This version sounds less electronic than what you might expect from that description, but certainly plays of the bass-in-your-face goodness of the original.  One of these days, I'm going to cut you into little pieces! 10/31/03
Yonder Mountain String Band - "Goodbye Blue Sky" Bluegrass party band Yonder certainly finds the delicate spaces in what I think makes a suitable album closer.  As evidenced here, their acoustic playing can be quite pretty.
[box type="download"]Download Entire Set (.mp3 zip)[/box]
Bonus Track
Best Pink Floyd cover EVER!
[fblike style="standard" showfaces="false" width="450" verb="recommend" font="arial"]