Introducing... The Ark Band
Lest we make this next event all about the honoree, we wanted to add a few words about our featured performers:  The Ark Band.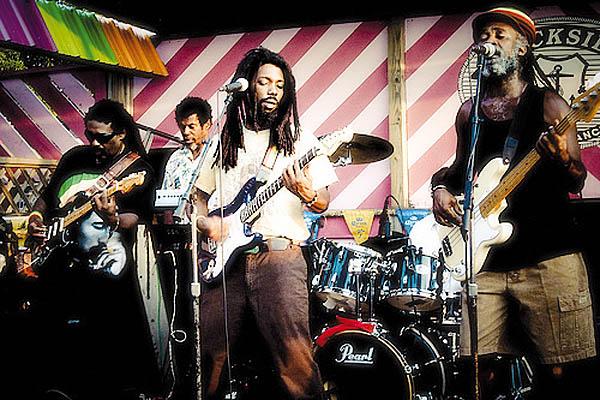 In a career that has spanned decades (the band formed in 1987), these guys have seriously been everywhere, from their homeland on the Caribbean island of St. Lucia, to their adopted home of Columbus, OH and all points in between, The Ark Band has brought its infectious combination of roots reggae, calypso and soca ("soul calypso") music to stages across the US, Canada and the Caribbean.  Terry Bobb, drummer, vocalist, and co-founder of the band, recently provided some insight into the band, its longevity and what inspires them to continue making the music they love.
Breaking it down into its base elements, Terry describes the band's philosophy as "designed to enlighten, educate and entertain all types of people."  Their music is inspired by at least one major influence -- Bob Marley (which conveniently falls right in line with Saturday's celebration) -- but also music of their formative early years.  The soca style, in particular, gets audiences on the dance floor, with its unique combination of Caribbean and Indian (yes, you read that right) rhythms.  In addition, Terry reminds me that "they grew up listening to rock and roll",  so the music reflects that approach in many ways as well.
"I am an optimist, and I believe that a smile is a very valuable asset." - Terry Bobb



Although Columbus may seem like an odd base of operations for a reggae band, Terry and his brother Eustace (bass, vocals) relocated there from New York to help another brother who was already established in a band.  I guess it stuck, since The Ark Band is still gigging regularly across the Midwest in 2010.  Regarding the longevity of the band, Terry provides some trademark humor and shrugs.  "We wouldn't know what else to do at our age," he explains.  "The three older guys in the band range from 45 to 61.  Go figure."
Over the course of its career, the band has been honored to share the stage with some of the top names in the reggae world, including Alpha Blondy and Burning Spear.  They have even appeared with The Beach Boys, so they are no stranger to the big show.  Terry points out that the name of the band is inspired by "Noah's Ark, transporting the music to the people".  There is no doubt that the people of Chicago will have the music transported to them this Saturday -- both the band and The Barn look forward to an amazing show.