Interactive Graph: The History Of Lollapalooza
Lollapalooza has experienced huge growth since its incarnation as a touring festival in 1991. As the festival settled solely in Chicago in 2005, the costs of touring were no longer an issue, allowing the curators to schedule more artists. With an increased number of artists came a more diverse range of musical genres.
Chicago Tribune recently assembled an interactive graph showing the growth and decline of genres represented at Lollapalooza throughout each year of the festival's existence.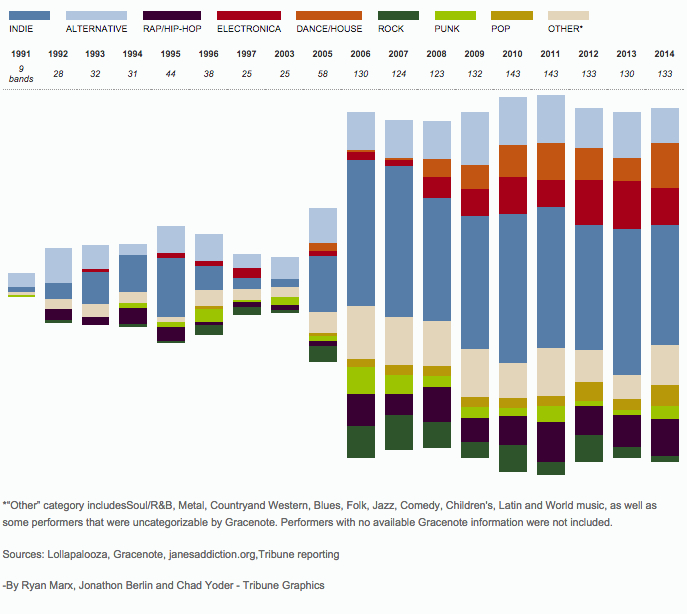 Some quick observations from this graph:
Alternative: For a festival initially built to promote alternative rock, alternative artists have remained a steady portion of Lollapalooza's act, though are now far from the majority.
Indie: Predictably, the indie genre has become the largest genre represented at Lollapalooza, making up a third of the artists at each year's festival since 2006.
Electronica and Dance/House: Not surprisingly, electronic artists have seen the greatest increase in representation of all genres. Hardly included in the earliest years, electronic artists are now more common than alternative acts.
Rap/Hip-Hop: Hip-hop was always represented at Lollapalooza, even in the festival's early touring days. The amount of hip-hop acts has remained surprisingly proportional to the amount of overall acts, showing no real increase or decrease over the years.
Pop: Pop music began finding its way into Lollapalooza when the festival took on new ownership in 2006, and has remained a steady but small part of the festival since.
Punk: Punk rock has remained a minority at the festival for the entirety of its existence, always making up a small percentage of overall acts.
Check out the interactive infographic here, where you can scroll over each genre to focus on its growth throughout the years.