I Did It My Way: 6 Wild Karaoke Stories Ripped From The Headlines
Browsing the New York times a couple weeks ago, I came across the following story -- Sinatra Song Often Strikes a Deadly Chord.  Apparently, murder has become such a common result after a poor performance of "My Way" in the Philippines, that it warrants its own subcategory of crime: "My Way Killings".  A closer read reveals that there is a whole slew of businesses in Southeast Asia who offer female companionship under the guise of "karaoke hostesses" -- the implication is that these women do a bit more for their clientele than just help with the lyrics.
It got the juices flowing... just how seamy is the underbelly of the karaoke world?  It's well known that folks get wild at karaoke -- I'm certainly hoping our audience cuts loose and loses some inhibitions at Live Band Karaoke at The Mambo Room on March 13 -- but tales of murder, violence, sex, corruption and drugs take it to a whole new level.
So, The Barn is proud to present our favorite wild Karaoke stories from around the globe.
Are You Ready For Porn Star Karaoke? Okay, maybe not as risque as I imagined when I first saw the headline, but it is interesting to know that karaoke is the backdrop for some of the most influential power brokering in the porno industry.  Just remember the next time you sit down for a viewing of "Video Voyeur" or "Nurse Sadie" that its production was likely worked out to the tune of one of its stars warbling karaoke at Sardo's.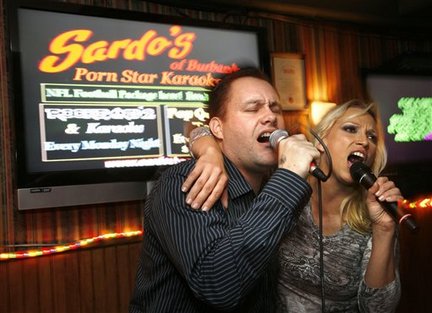 Karaoke Rage - When Innocent Singing Turns Violent This piece catalogs the sometimes unanticipated reaction when red-hot musical passion and self identification meets exhibitionism and potable social lubricants.  The author posits that the things that make karaoke fun (wacky personalities, bombing, the social experience, our deep connection to the music, getting blotto) also make it unpredictable -- I guess there is a sense of drama and danger knowing that your performance could end in a bar-clearing brawl.  In any case, I feel like I'm a better person for having read a sentence that contains the phrase "watch a drunken Polish man deflower Starship's 'We Built This City'"
Karaoke Nuisance Jailed For Drunken Cream Bun Attacks On Police Officers Karaoke loving.  Check.  Anti-authoritarian.  Check.  Style points.  Check.  The perpetrator lists his interests on his website as "drinking and singing but mostly drinking."
The Fuzz Snuff Karaoke Drugs I guess one way to quell violence associated with karaoke and alcohol is to swap the booze for ecstasy.  Not sure what the club owner was planning with the 13 jars of ketamine, but he is awarded bonus points for somehow including counterfeit cigarettes in the booty.  Something to think about while serving his 25 years.
Boston Needed A Lead Singer, Found One Online - Plucked From Obscurity, Man Joins Favorite Band After Karaoke Wows Founder More inspiring than wild, I can't believe this one slipped by me when it happened two years ago.  This story happens to be a karaoke twist on the tribute band lead singer who replaced outed Judas Priest frontman Rob Halford, famously fictionalized in the Mark Wahlberg so-bad-its-good classic "Rock Star".
A tailor made Good Morning America tale of triumph, Tommy DeCarlo sold his keyboard in 2006 (to pay for Christmas presents for his kids!) and therefore used karaoke to share his singing with the world via MySpace. By chance, this performance was viewed by the band, and Boston's leader Tom Scholz snatched Tommy away from his day job as a credit manager from Home Depot when the band tragically lost its lead singer Brad Delp.  The first time DeCarlo ever sang with a band on stage IN HIS LIFE was with Boston at a tribute concert honoring Delp; he joined the band on tour the following year.
Here's hoping you all can get some practice at The Barn's Live Band Karaoke event before you get the big call.  Tickets are on sale now!